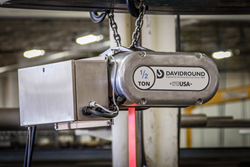 Streetsboro, OH (PRWEB) July 16, 2015
David Round specializes in custom made lifting equipment. July's #ProductOutTheDoor gets the job done! This Strap Hoist was built to meet the customer's need for low headroom requirements in a cleanroom environment for pharmaceutical processing where regular preventative maintenance is challenging due to production demands.
The David Round company continues to set the standard for custom built hoisting equipment in the food and pharmaceutical market where cleanliness, reliability, and performance are paramount for safety and ergonomic value.
This Hybrid Stainless Steel M55 Strap Hoist was custom built to meet the clean room and lifting capacity requirements needed. Since each work environment is different The David Round Company took a long hard look at what was needed for the customer.
What Was Required?
Due to the nature of work a certain level of cleanliness was required. The David Round Company tackled this problem with a heavy dose of stainless steel.
Stainless Steel Drums
Stainless Steel Bottom Blocks
Stainless Steel Load Hook
Stainless Steel Hoist Motor Cover
The David Round Company's highly trained engineers specialize in this type of custom project. What's even better is the surprises don't stop there with this Hybrid.
What makes it a Hybrid?
The David Round Company thrives on Engineered Lifting Solutions for the toughest applications. The David Round Company looks out for their customers and look for affordable solutions when they arise. So what's a cost effective alternative to stainless steel? Aluminum. Thanks to the quick thinking of The David Round Company's expert engineers they were able to combine stainless steel components and aluminum covers to bring this one-of-a-kind Hybrid Strap Hoist to life.
This Hybrid Strap Hoist is available up to 2000 lbs. Capacity! The 2-inch urethane coated strap doesn't look it, but it can handle up to 2000 lbs. lifting capacity safely. A seat belt like strap coated in urethane for an easy clean makes this Hybrid Strap Hoist perfect for cleanrooms and food processing environments that follow strict requirements. This Hybrid Strap Hoist is easy to clean thanks to the stainless steel components, urethane coated strap, which is completely wash down compatible, and a watertight control enclosure.
It is watertight too:
Designed for an all-around easy clean The David Round Company has equipped this durable Hybrid Strap Hoist with a NEMA 4X Stainless Steel Control Enclosure AND a NEMA 4X Push Button Pendant. NEMA 4X enclosure type insures a watertight seal to protect the internal components from getting wet during cleaning and use.
Features Include:

Lift Capacity: 1,000 LBS
2" Urethane Coated Strap – Washdown Compatible
Stainless Steel Bottom Block and Load Hook
Stainless Steel Drum
Aluminum Covers
Stainless Steel Hoist Motor Cover
Stainless Steel Trolley Wheels
NEMA 4X Stainless Steel Control Enclosure
NEMA 4X Push Button Pendant
American-made
The David Round Company is constantly upgrading and enhancing products in order to provide their customers with the best possible solutions.
The David Round Company excels in custom engineered lifting equipment. That's why they created #ProductOutTheDoor. Each month, they will give you a first-hand look at custom products being produced for customers by highlighting one of their American-made products.
Cranes, Hoists, Winches, Stainless Steel, Pharmaceutical Grade… The David Round Co has material handling engineering specialists who custom design solutions for demanding applications.
Contact The David Round Company today and let them customize your next material handling solution.