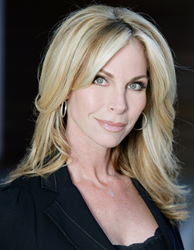 Santa Monica, Calif. (PRWEB) July 15, 2015
Cindy Ambuehl, a licensed real estate agent in the Santa Monica, California, market, has joined the prestigious Haute Living Real Estate Network.
The Haute Living Real Estate Network (HLRN) of Hauteresidence.com is proud to recognize Cindy Ambuehl as a prominent and award-winning real estate professional and the network's newest partner. HLRN unites a distinguished collective of leading real estate agents and brokers, highlighting the most extravagant properties in leading markets around the globe for affluent buyers, sellers and real estate enthusiasts.
About Cindy Ambuehl:
Cindy Ambuehl, a Southern California native, has always been one to make the most of her opportunities. Tenacious, enthusiastic, and never afraid of hard work, Cindy graduated from California State University Fullerton with a double major in mathematics and marketing/advertising. Acting and modeling opportunities came Cindy's way, and while working for 20 years in television, movies, and print, she also began to invest in real estate.
Cindy has always had an incredible passion for real estate and has been highly regarded and widely recognized as an expert in high-end real estate. Specializing in residential sales on the Westside, she has proudly built a reputation for her unrelenting work ethic, integrity, honesty, and thorough knowledge of the marketplace. Cindy's clientele runs the gamut, from seasoned investors to first-time home buyers. Caring and always accessible, 95 percent of Cindy's business comes from repeat clients or referrals from satisfied clients.
In 2007, during the United State's lowest point in real estate, Cindy persevered and was ranked within the top one percent of realtors nationwide for sales volume and continued to exceed these numbers each year following, showing her unrelenting and uncompromising work ethic. Cindy was also ranked in the top 50 of 5,800 real estate agents in Los Angeles as measured by sales volume, and in 2014, she closed more than $70,000,000 in sales. Cindy has also been named to The Hollywood Reporter's "Hollywood's Top 25 Real Estate Agents" list and is involved in charitable organizations, such as Giveback Homes and P.S. Arts.
Much of Cindy's success can be attributed to her exceptionally high standards and values, along with great people skills and negotiation savvy. Cindy and her team are enthusiastic about leading-edge technology and consistently maximize the exposure of her properties through social media and traditional marketing, and on more than 30 highly-visible websites. She is also the first real estate agent in California to adopt a .LUXURY domain name to better position her clients in the luxury marketplace. Cindy's clients know that they can expect the highest levels of privacy and the utmost attention to their needs.
Cindy Ambuehl has positioned herself as the "go to" agent for high end, luxury services, and it's all due to her tenacity, trustworthiness, experience, and heart. Cindy lives in Santa Monica, California, is married to actor Don Diamont, and is a mom to their seven boys. That's right. Seven.
To learn more, visit Cindy Ambuehl's Haute Residence profile: http://www.hauteresidence.com/member/cindy-ambuehl
About Haute Living Real Estate Network (HLRN):
Haute Living Real Estate Network (HLRN) of Hauteresidence.com offers readers the most prominent directory of experienced realtors, brokers and luxury listings, and HLRN has grown to be the number one source for real estate news, residential developments, celebrity real estate news and more. Seeking an experienced interior designer? Hauteresidence.com is also home to Haute Design Network (HDN), a collective of celebrated interior designers that will help you decorate your new home or stage an active listing.
Access all of this information and more by visiting: http://www.hauteresidence.com