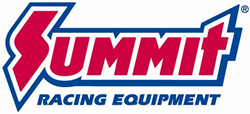 Tallmadge, OH (PRWEB) July 17, 2015
Scat "Scat Pack" Rotating Assemblies are made to withstand the extreme stress of a high performance For 4.6L Modular engine.
Bulletproof internals create a foundation for high-power engines. In stock dress, Ford's 4.6L modulars are excellent engines. But if a builder wants to upgrade to high performance cylinder heads, or add nitrous or forced induction, the engne internals may be pushed beyond their design limits.
Scat Packs are complete rotating assemblies. At the heart of each kit is a crankshaft and H-beam connecting rods forged from 4340 steel, plus a set of forged aluminum pistons. Scat also throws in piston rings, rod bearings, and main bearings.
The Scat rotating assemblies can be had internally balanced or unbalanced to build a 297 or 300 cubic inch engine.
Summit Racing Equipment
http://www.SummitRacing.com
1-800-230-3030