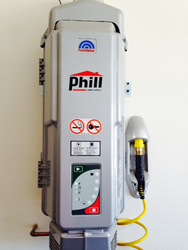 We're excited to see our customers' reactions regarding the in-home CNG filling stations.
Queen Creek, Ariz. (PRWEB) July 16, 2015
On Wednesday, Tempe, Arizona-based Fulton Homes unveiled the nation's first in-home compressed natural gas (CNG) filling stations at Queen Creek Station, the homebuilder's newest community in Queen Creek, Ariz. Queen Creek Station is the first master planned community in the U.S. to offer a CNG garage filling station option. Fulton Homes partnered with and Southwest Gas to bring this first-of-its-kind program to the public. The announcement was made during a press conference held Wednesday morning at Queen Creek Station's Energy Center. Representatives of Fulton Homes, Southwest Gas and AutoNation Honda were on hand for the event.
"Fulton Homes jumped at the chance to partner with industry leaders like Southwest Gas and AutoNation Honda to create a state-of-the-art energy efficiency option for homebuyers in our Queen Creek Station community," said Dennis Webb, vice president of operations at Fulton Homes. "For owners of compressed natural gas vehicles, who wouldn't love the convenience of being able to refuel in the comfort of their own home? We're excited to see our customers' reactions regarding the in-home CNG filling stations."
The CNG tanks will allow homeowners to refuel their CNG vehicles in their garage. The CNG option will save CNG vehicle owners time and lessen the aggravation and anxiety in trying to find that rare CNG station to refill. According to AltFuelPrices.com, there are just six local public CNG stations in Phoenix; four public CNG stations within 25 miles of Phoenix and there are eight public CNG stations within 50 miles of Phoenix. Also, the cost per gallon of CNG is often much lower than gasoline in most areas, which will lead to savings for homebuyers at Queen Creek Station.
AutoNation Honda in Chandler, Ariz. provided a 2015 CNG Honda Civic to the Fulton Homes community to transport potential homebuyers to lots around Queen Creek Station. The Civic will also be seen throughout the Phoenix Valley and spectators are encouraged to take "selfies" with the car, using the hashtag #CNGatHome.
# # #
About Fulton Homes
Founded in 1975, Fulton Homes is the largest privately owned and family operated builder in Arizona. Known for its legendary Fulton quality, Fulton Homes has built more than 20,000 high-quality single-family homes over the past 35 years in the Phoenix area. Fulton Homes is headquartered at 9140 S. Kyrene Road in Tempe, Ariz. For more, visit http://www.fultonhomes.com.