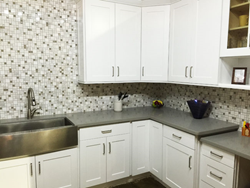 Phoenix, AZ (PRWEB) July 16, 2015
CabinetDIY has launched a Modern Style Kitchen Cabinets sales campaign to help property owners increase the value of their home by making their property more attractive and appealing to younger home buyers.
The property market has become even more competitive in 2015 than it was in 2014. Homeowners trying to sell their property quickly with the maximum price possible are making huge and expensive mistakes, according to real estate agents. Many homeowners are spending money on landscaping their garden, remodeling bedrooms and sitting rooms to add value to their home and improve the speed of a sale. According to CabinetDIY and real estate agents, homeowners should be investing in a new kitchen.
A kitchen has for many years in most households become the main room. It is the room where families get together and spend quality time, so having a new stylish kitchen is important. According to real estate agents, there are two rooms in a property that a potential buyer, and especially a female buyer, want to see. These two rooms are the kitchen and the bathroom, and if any of these two rooms disappoints, then the sale will not go ahead.
A well-designed kitchen cannot only add value to a property, but it can make it more salable than other properties within the local area. To avoid overspending on a kitchen, it is important to stick to a budget while at the same time making the kitchen have the wow factor. That can be achieved through RTA Cabinets.
A spokesman for CabinetDIY said: "When looking to remodel a kitchen it is important to think about the market they are looking to sell to. By choosing the desired market, the property owner can then decide on the right kitchen design."
RTA Cabinets provides a homeowner with an affordable new stylish kitchen, helping them to reduce the cost of having a company come and design and install the kitchen. Through the more affordable approach to remodeling a kitchen, the homeowner could use the savings to remodel the bathroom to increase their investment even further.
For more information, or to get started on the next kitchen design project, visit http://www.cabinetdiy.com
About CabinetDIY
CabinetDIY was established in 2004 to provide professional interior design services and products throughout North America and beyond. The company's team takes each customer's need, complaint or suggestion seriously, constantly improving their services and products to meet the demands for quality, uniqueness and diversity of today's generation.