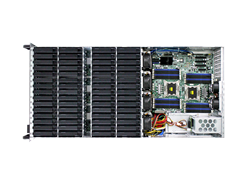 "Applications for the RSC-4H include media storage, medical imaging repositories, and email archiving," noted CT Sun, AIC's chief architect.
City of Industry, CA (PRWEB) July 21, 2015
AIC announces the launch of its new RSC-4H high-density storage server chassis. It can accommodate up to 60 drive bays in a 4U space. This represents 1.6 to 2.5 times increase on storage capacity over typical 4U server chassis, which only support 24 or 36 drives.
The new RSC-4H functions as a server node and is useful for cold storage as well as shared storage. "Applications for the RSC-4H include media storage, medical imaging repositories, and email archiving," noted CT Sun, AIC's chief architect. "It is also suitable for surveillance DVR systems, private cloud storage solutions, and warehousing large amounts of data."
Because the RSC-4H combines server functions with high-density storage, it saves customers money. They won't need to deploy and maintain two separate devices in the form of a server and JBOD (the industry term for Just a Bunch of Disks).
Customers can also implement the RSC-4H as a virtual tape library, as the 8-port host bus adapter or HBA will see all 60 drives as a single large configuration. It will be ideal for organizations that need to migrate to a more affordable solution for long-term data storage that does not need to be accessed immediately for mission-critical tasks. (Cold storage involves slower data retrieval and response time.)
AIC created the RSC-4H with tool-less design features, making installation and maintenance easier. All drive trays have built-in light pipes for the drive status LEDs.
Each RSC-4H supports up to E-ATX motherboards. AIC does not pre-install motherboards. This gives customers the flexibility to use whatever motherboard that will work best for their particular requirements.
When using the RSC-4H for cold storage, users cascade the three 20-port 6Gb SAS backplanes connecting one of the three to an HBA to manage all the drives as a single configuration. For shared storage, users are able to connect the backplanes directly to an HBA for more bandwidth and improved performance.
The backplane's tool-less sliding mechanism makes it easier to service, saving time and money for customers. Further, lowering the costs of operation and the total cost of ownership, the RSC-4H includes low-power fans and an 80 Plus Platinum high-efficiency power supply unit. The fans consume approximately 70% less power than regular fans and run at a slightly higher RPM. With the 80 Plus Platinum power supply, the RSC-4H is at least 90, 92 and 89 percent energy efficient at loads of 20, 50 and 100 percent of the rated load. In an industry where "going green" is becoming increasingly important, such power savings help customers reduce their carbon footprint.
For even larger data storage requirements, the RSC-4H is designed to be scalable. AIC provides a series of JBODs that will connect to the RSC-4H to further augment the storage capacity.
About AIC:
AIC is a leading provider of both standard OTS (off-the-shelf) and OEM/ODM server and storage solutions. With expert in-house design, manufacturing and validation capabilities, AIC's products are highly flexible and configurable to any form factor, standard or custom. AIC leads the industry with nearly 20 years of experience in mechanical, electronic, system-level engineering as well as a dedication to innovation and customer satisfaction. Headquartered in Taiwan, AIC has offices and operations throughout the United States, Asia and Europe.