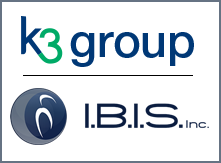 Introducing The Advanced Supply Chain software into the UK will really enhance the Microsoft Dynamics AX offering that we bring to our customers.
Peachtree Corners, GA (PRWEB) July 16, 2015
I.B.I.S., Inc. and K3 Business Solutions (K3BS) have joined forces to market Advanced Supply Chain Software for Dynamics AX. This was just announced at the 2015 Microsoft Worldwide Partner Conference July 12-16, 2015 in Orlando, FL. K3 chose to partner with IBIS to offer the Microsoft Global ISV product, Advanced Supply Chain Software, as it will offer their distribution and manufacturing clients a comprehensive industry specific end-to-end ERP solution with advanced supply chain functionality.
Gary Vincent, Managing Director of K3 Business Solutions, stated: "This is a great joint opportunity to really leverage the power of the Microsoft Partner Channel and especially the Global ISV relationship. Introducing The Advanced Supply Chain software into the UK will really enhance the Microsoft Dynamics AX offering that we bring to our customers. Distribution is core to the K3BS business and this relationship will further enhance the depth of the offer into this sector within the UK.
K3BS is excited about offering Advanced Supply Chain Software by IBIS to their clients. It is fully built on Microsoft technology by industry experts to address the full depth and breadth of their supply chain needs. This software gives the AX platform improved supply chain velocity, and offers them the ability to exceed customer expectations and optimize their profitability.
Dominic Telaro, VP of Industry Solutions with IBIS, Inc, stated: "We are very pleased to partner with K3BS. Their resources, expertise & footprint both geographic - Europe - and industrial- finance, manufacturing, distribution & service make them a perfect partner for IBIS Inc. and our Advanced Supply Chain Software. Our shared vision & expertise will allow us to deliver the right solution tailored to meet the market's supply chain needs."
About I.B.I.S., Inc.
Founded in 1989, I.B.I.S., Inc. provides complete enterprise business solutions to maximize business success. Through a strategic relationship with Microsoft, I.B.I.S., Inc. provides world class solutions for Enterprise Resource Planning (ERP), Customer Relationship Management (CRM), Business Intelligence, and Custom Development. I.B.I.S., Inc. specialties include Industrial Manufacturing and Distribution, Field and Professional Services. I.B.I.S., Inc. has received a variety of awards including Microsoft Dynamics Outstanding US Partner of the Year, Worldwide Partner of the Year for Microsoft Dynamics GP, Worldwide Finalist for the Microsoft Dynamics AX Partner of the Year, and Microsoft Dynamics Inner Circle Partner. I.B.I.S., Inc. is AMR Research Industry Certified in Distribution and Discrete Manufacturing. For more information, please visit http://www.ibisinc.com.
About K3 Business Solutions
As trusted advisors in business management solutions K3 Business Solutions are a leading UK Microsoft Dynamics ERP partner who delivers innovative solutions and first class support built on Microsoft Dynamics AX software. More than 150 clients rely on K3 BS to advise, recommend, implement and support their critical business systems.
K3 Business Solutions has over 25 years' experience in delivering integrated business management systems to the manufacturing and distribution organisations and specialise in food, fashion, automotive and advanced distribution industries encompassing, Enterprise Resource Planning (ERP) and complimentary Business Intelligence (BI) solutions, giving that all important powerful and scalable , business critical solution which delivers best practice, processes and functionality.
K3 Business Solutions is part of the K3 Business Technology Group and thrive on global recognition from Microsoft, including being a valued member of their elite Inner Circle and Presidents club, which in turn reaps benefits additional benefits for our customers.
Contact K3 Business Solutions on: +44 (0)1256 744002 or Email:simplydynamics(at)k3btg(dot)com