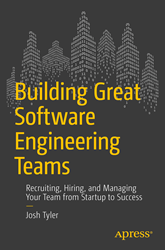 Josh Tyler provides an easy-to-understand recipe for creating your own high-powered engineering team.
Redwood City, California (PRWEB) July 15, 2015
Course Hero, the leading online platform for crowdsourced and course-specific study resources, is excited to celebrate the release of VP of Engineering Josh Tyler's new book Building Great Software Teams: Recruiting, Hiring, and Managing Your Team from Startup to Success (Apress, July 2015).
Building Great Software Engineering Teams provides engineering leaders, startup founders, and CTOs with concrete, industry-proven guidance and techniques for recruiting, hiring, and managing software engineers in a fast-paced, competitive environment.
Since joining the Redwood City-based startup in March 2014, Tyler has rapidly built the Course Hero Engineering and Design Team up from 13 to 34 top-notch members.
"With an eye for talent and a relentless passion for recruiting, Josh has created a system that helps put the best and brightest in front of our hiring teams time and time again," says Course Hero CEO and Co-Founder Andrew Grauer. "What's equally (or maybe more) important is that Josh is highly effective at building a winning software development culture here at Course Hero."
Tyler has spent nearly a decade building teams in high-growth startups like Course Hero, experimenting with every aspect of the process to develop effective strategies. In this essential guide, he draws on this experience to outline specific, detailed solutions augmented by instructive stories from his own experience.
Organized to cover each step of the process in the order you'll likely face them—and highlighted by stories of failure as well as success—Building Great Software Teams provides an easy-to-understand recipe for creating your own high-powered engineering team.
###
About Course Hero
Course Hero is a digital learning platform providing students with a suite of online educational resources, including crowdsourced study documents, expert tutors, and customizable flashcards. For students exploring new subjects, mastering key concepts—and everything in between—Course Hero offers essential tools to help them achieve their goals and succeed in their courses. To learn more, please visit coursehero.com.