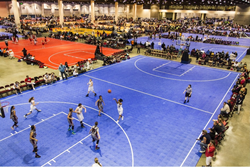 SnapSports products are the best in the industry
Las Vegas, Nevada (PRWEB) July 16, 2015
Las Vegas is the place of making bets and taking chances. However, the Amateur Athletic Union (AAU) stopped playing roulette when they chose SnapSports® as their 'official basketball courts' for the tournament. With three big basketball events back to back this summer at the Las Vegas Convention Center—AAU West Coast National Championship, July 16-19; Las Vegas Classic, July 21-23; and Grand Finale, July 24-26—AAU chose a consistent winner to help their events succeed.
"Over the years, we've used nearly every indoor modular surface, but SnapSports athletic surfaces are the best in the industry. These young athletes can play upward of a dozen times during an event, but with the incredible structural support of ShockTower®, the players are never fatigued from floor impact." - Matt Williams, AAU, Second Vice President, 'Jam On It' President
Over 1000 teams made up of girls and boys grades 4th through varsity will participate in three different tournaments during the 10 days of competition. Each tournament will utilize 44 competition courts comprised of SnapSports patented full-suspension BounceBack® ShockTower surfacing.
SnapSports®, an industry leader in modular flooring and 100% American made, has been a long-standing partner with AAU as the official court provider. Their exclusive patented SnapSports® BounceBack® ShockTower® delivers a "resilient shock" technology engineered with performance and safety in mind. The built-in shock deflection adds a level of "cush" to reduce impact on joints and limbs during competitive play, making SnapSports the winning number.
"The team at SnapSports is proud to continue our long-standing relationship with AAU's Jam On It events and provide the industry's top rated championship basketball courts needed for these athletes to perform at the top of their game" – Jorgen Moller, CEO, SnapSports®, Inc.
SnapSports manufactures 24/7 in their 150,000 square foot ISO 9001:2008 Quality certified facility in Salt Lake City, Utah. SnapSports is the Official Court of AAU Basketball Jam On it, AAU All Under one Roof, The Big South, The United States Futsal Federation, NBA Jam Session, NBA Nation, 2015 NBA House, and USA Team Handball. SnapSports is an official FIBA Technical Partner and has been a proud partner of The Special Olympics, The National Veterans Wheelchair Games, The Volleyball Festival, Gus Macker 3X3, The Vanilla Ice Project, World Police & Fire Games and The National Collegiate Roller Hockey Championship to name a few. SnapSports surfaces are made in the USA and played on around the world