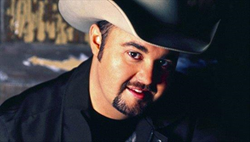 "All of us in the room get to feel like we're just sitting around with friends, laughing and enjoying some music." Darryl Worley, Country Music Artist
Jackson, Tenn. (PRWEB) July 15, 2015
JACKSON, Tenn. - July 15 - Country music star and songwriter Darryl Worley will host hit songwriters and musicians Daryle Singletary, Mark Collie and Jim "Moose" Brown for the Darryl Worley and Friends Songwriters' Event at Bumpus Harley-Davidson of Jackson Tuesday, July 28, 2015. The show will begin at 6 p.m. at the dealership located at 326 Carriage House Drive. Funds raised will benefit the Darryl Worley Foundation's current and upcoming projects.
General admission is $75 at the door; corporate table sponsorships are $750 and will accommodate eight people. The price covers drink and meal tickets. Golden Circle table sponsorships are $1,500; they include table seating for 10 people, drinks, meal tickets and a meet-and-greet with the artists. Known as the Mexican grill with Louisiana soul, Coyote Blues is the evening's caterer.
The artists will perform familiar hits including Singletary's "I'm Living Up to Her Low Expectations," Collie's "Hardin County Line," and Brown's "It's Five O'Clock Somewhere." Between their performances, a live auction will include an "It's Five O'Clock Somewhere" package, special Jack Daniels items and more.
A country traditionalist, Singletary's newest album release is titled "There's Still A Little Country Left," which features many collaborations and includes a tour scheduled through December. "I continue to work and build a fan base. I've been fortunate to be able to always keep it real and not have to compromise," he said. Collie, who is also an actor and philanthropist, has released eight albums and garnered 16 singles on the Billboard Hot Country charts. Some of his hits include, "Shame, Shame, Shame, Shame" and "Even the Man in the Moon is Crying." Brown, a member of Bob Seger's Silver Bullet Band, won a Grammy for co-writing "It's Five O'Clock Somewhere." He also co-wrote Darryl Worley's hit, "If Something Should Happen."
Known for his patriotism and support for U.S. troops, Worley has had 20 hit singles and six albums.
He said the songwriters' series gives the audience a chance to listen to the artists' stories behind their hit songs. "All of us in the room get to feel like we're just sitting around with friends, laughing and enjoying some music," Worley said.
The songwriters' session kicks off the 14th annual Tennessee River Run schedule, which includes several activities planned through October including a boat poker run, golf tournament, bass tournament, motorcycle ride and a 5K run. The Tennessee River Run concert will be held at 2 p.m. Saturday, Oct. 3, 2015, in downtown Savannah. Gates will open at noon with the event beginning with children's games and activities.
Tennessee River Run events have raised more than $1.4 million for the Darryl Worley Foundation, which since 2002 has served special needs for people in the Mid-South. The foundation supports several organizations including the Carl Perkins Center in Jackson, the Cystic Fibrosis Foundation, St. Jude Children's Research Hospital in Memphis and the Darryl Worley Cancer Treatment Center in Savannah.
For Songwriters' Series ticket information, call Bumpus Harley Davidson of Jackson (731) 422-5508. Additional event information is available at darrylworleyfoundation.org, http://www.facebook.com/TennesseeRiverRun and http://www.tnriverrun.org.