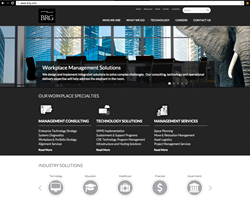 Visitors will find rich multimedia content, informative white papers and client case studies in a very deep resource library.
Dallas, Texas (PRWEB) July 15, 2015
BRG, a leading workplace management solutions firm, announced today that they have launched a brand new website (http://www.brg.com) to provide visitors with even more relevant and easy-to-find information on the multi-faceted capabilities of BRG. The new BRG website offers a clean, modern design, easy-to-navigate functionality, and a content-rich site experience.
Almost tripling in size over the past three years, BRG is now one of the largest companies focused solely on workplace management services and technology. In addition to launching several new practice areas in that time, BRG has also expanded geographically beyond the US and Canada into Europe and Asia. The new BRG.COM is reflective of the significant changes and expansion BRG has experienced over the last several years.
"Not only does the site offer up the pertinent 'Who, What, Where' information on BRG, but it also offers so much more," comments Michael Levine, BRG's SVP of Strategy. "Visitors will find rich multimedia content, informative white papers and client case studies in a very deep resource library. Along with that, our technology customers on the four industry-leading IWMS platforms that we support and implement - ARCHIBUS, IBM TRIRIGA and Trimble's Manhattan and CenterStone solutions - can join our virtual user groups for their platform and access an extensive video library of group sessions that highlight the capabilities of the platform, spotlight end user-presented success stories and offer extensive tips and tricks of the software solutions presented by BRG's subject matter experts. We have heard our clients' requests and have delivered what we believe to be an extensive value-add through our portal."
The new website also provides a blog and social media integration with direct links to BRG's LinkedIn, Facebook, Twitter, Google+ and YouTube pages, where company and product updates along with current job postings appear on a regular basis for BRG's followers.
About BRG
BRG provides innovative solutions to support Corporate Real Estate and Facilities Management organizations. Their team of seasoned professionals serves clients within Corporate, Institutional and Government sectors by providing innovative solutions - helping drive quantifiable results. Specializing in strategic advisory services, technology deployment, and program and project management for occupiers, BRG helps clients align people, processes and technology with their overarching business strategy.