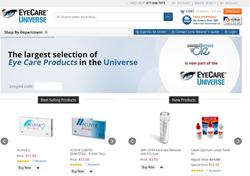 To celebrate the rebranding of one of the oldest and most trusted eye care websites the partners at Eye Care Universe wanted to offer up amazing savings as a way to both thank their loyal and long standing customers
Elmsford, NY (PRWEB) July 15, 2015
On June 30th 2015 Eye Care Associates launched its newest website EyeCareUniverse.com. The new website will soon replace the long standing clecontactlenses.com website which has been in operation for the past 16 years. For over 16 years clecontatlenses.com has serviced hundreds of thousands of orders and sold millions of pairs of name brand contact lenses worldwide.
To help usher in legacy patients from CLEContactLenses.com, EyeCareUniverse.com is having 8 days of Amazing Discounts. Each day the website will promote a new offer. Beginning today the website is offering 8% off all contact lens orders on its website when you enter the following coupon code during checkout: ECUVALUE8. In order to discover the remaining 7 daily deals, visitors are being asked to join the websites mailing list so that they can be inform of the new daily deal as soon as it is offered.
"To celebrate the re branding of one of the oldest and most trusted eye care websites clecontactlenses.com – to eye care universe.com… the partners at Eye Care Universe wanted to offer up amazing savings as a way to both thank their loyal and long standing customers and also to get the word out to new customers" says Rob Santelli, a Partner at EyeCareUniverse.com
"EyeCare Universe was born from our years of experience in servicing and sourcing literally every eye care product in the known universe…" states Chris Kalian a Partner at EyeCareUniverse.com. "The natural evolution for our company and more importantly, our customers was to bring them the largest selection of eye care products in the known universe…. Now you'll find not only every brand of contact lenses, contact lens solutions, contact lens removers and accessories but every major brand of designer eyeglasses and sunglasses all under one website." states Chris Kalian a Partner at EyeCareUniverse.com
As an authorized internet retailer of major brands like Acuvue, Ray Ban, Persol, Gucci, Prada, Carrera, Marc Jacobs, Michael Kors and many more top name brands. EyeCare Universe can now service all of your family's eye care needs in one place online; all while shipping your order to the convenience of your own home or office.
Next week EyeCare Universe will go full throttle with a national roll out which will include a major branding campaign with special offers. EyeCare Universe will possess the ability to provide additional services like a virtual try on of any frame the website offers, a free two-way shipping program on all of its brand name frames, full service prescription glasses and sunglasses on any frame all while maintaining it's 100% customer satisfaction guarantee as Clecontactlenses.com customers have become accustom to receiving with every purchase.
Eye Care Associates is based out of Westchester County, NY and has offices in New York City and Mahwah, NJ. The practice has been in business online for the last 16 years selling Acuvue contact lenses, contact lens removers, contact solutions, eye vitamins, designer frames and sunglasses and all things eye care related.