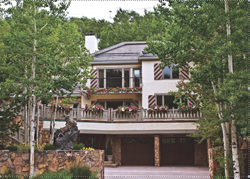 Vail, Colo. (PRWEB) July 17, 2015
The Stockton Group (TSG), a division of Ascent Sotheby's International Realty, recently sold President Ford's Beaver Creek residence to a local Vail buyer for $6.65 million. Located at 65 Elk Track in Beaver Creek Resort with ski-in, ski-out access and unparalleled views of mountain and village area, the 11,629 sq. ft. home features seven bedrooms, notable presidential memorabilia, pool house and signature lap pool for the former President, private massage room, theater and caterer's kitchen.
The sale price represents only one of four other single-family homes that have been sold in 2015 valued at over $5M in Beaver Creek. The sale date also came on the heels of the annual Fourth of July holiday, a time of year when President Ford and First Lady Betty Ford were regularly seen in the Vail Valley.
Having been on and off the market since 2009, TSG acquired the listing in early 2014, following three other previous brokerage firms. Owner/Broker Tye Stockton and Broker Associate Tom Dunn represented the seller and buyer, respectively, for the Ford home sale.
Ford Residence Home Sale Details
Listing price
$7.495M
Sale price
$6.650M
Square footage
11,629 SF
Home Features
The main building contains 7 bedrooms, a theater room, game room, private massage room, separate caterer's kitchen, and an office. An adjacent pool building with heated path includes President Ford's signature lap pool, exercise room and hot tub and provides ski-in, ski-out access to Beaver Creek's Strawberry Park ski runs.
Sale challenges
The home's formal design and architectural layout required a buyer to have the vision and resources to modify the residence in a way that would take full advantage of the home's location and excellent ski-in, ski-out access.
Buyer
Locally based; client name withheld for privacy
Factors contributing to the sale
The residence's prime location spoke to the buyer, including the ski-in/ski-out access and walking distance to Beaver Creek Village. One of the first lots to be sold in Beaver Creek, the property also offers amazing views that to-date have been underutilized by the home's design.
About The Stockton Group
Formed in November 2014, The Stockton Group (TSG) has closed on more than $70M in sales, including such notable listings as 54 Beaver Dam, which sold for $11M and two sales where TSG represented both the buyer and seller: West Forest Road lot ($8.45M), and the Ford Residence at 65 Elk Track ($6.65M). TSG has also represented the buyer in a number of significant sales this year, including the sale of 18 Rose Crown for $5.995M and 275 Wild Rose ($4.8M) also in Mountain Star. TSG currently has an additional $13.7M in pending sales.
TSG was formed to provide potential Vail Valley and Beaver Creek home buyers and sellers with a comprehensive, full-service real estate sales and marketing approach by engaging a team of four highly skilled professionals who have proven ability to deliver a level of service beyond the scope of an individual broker. Combined with the power of the global Sotheby's International Realty® (SIR) brand, to-date, TSG has received over $75M in SIR referrals in 2014 and includes the Vail Valley's leading real estate negotiators who have earned the Number 1 Sales spot in Vail five years in a row.
For more information visit http://www.thestocktongroupvail.com or call 970-470-6212.
About Ascent Sotheby's International Realty
Located at 292 E. Meadow Drive, Suite 101, Vail, CO 81657, Ascent Sotheby's International Realty is a boutique real estate brokerage firm specializing in the marketing of luxury residential real estate. Locally owned by Tye Stockton, and James Fangmeyer and Steve Virostek of Triumph Partners, Ascent Sotheby's International Realty is affiliated with the Sotheby's International Realty® network, offering a worldwide brokerage presence that creates a global marketplace to buy and sell properties in the Vail Valley. For more information on Ascent Sotheby's International Realty, visit http://www.AscentSIR.com or call 970-476-7944.
# # #