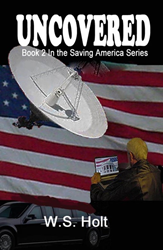 The truth is the best weapon against tyranny!
(PRWEB) July 20, 2015
The idea of revolution has lingered in our minds and crossed our lips in whispered conversations for years, but it has been all talk until an act of violence by one man awoke the nation. Now that man is missing, in the new political techno-thriller "UnCovered".
The government calls them rebels, but they prefer to be known as Loyalists - loyal to the constitution and the principles of our heritage. The revolution is becoming a living entity, feeding on resentment as the government continues to take away individual freedoms. The rebels are ready to retaliate, but they need their world-class hacker, Hunter Benshore, to lead the charge against Washington.
Meanwhile, after months of frustration and pressure from all sides, the President of the United States declares a state of 'Almost Martial Law' and combines the forces of the Homeland Security Organization and the National Guard. He now controls and utilizes the so-called Homeland Guard to do his bidding as he targets individuals and rebel groups clinging to the right to bear arms and freedom of speech.
Follow Hunter and his team as they fight the Homeland Guard and reveal the driving force behind Washington in "UnCovered."
"UnCovered" is the new second book in a futuristic, three part series titled "Saving America." Book one, "UnTrusted," describes Hunter's initiation into the revolution and his team's efforts to capture video showing the group who truly controls the president.
About the Author: After more than 30 years in the computer industry, W.S. Holt uses his knowledge and imagination to lead us through the exploits of a super-hacker. His background and his experience in technology and management support the development of his characters, their fears, and their desire for freedom.
Visit http://www.wsholt.com for sample text and additional books by W.S. Holt.
UnCovered is now available on Amazon in paperback (ISBN: 978-0-98520-626-0) for $9.95 and in electronic formats on Amazon and B&N for $7.95.