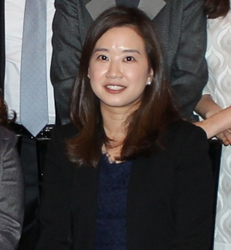 I believe in providing the highest quality dental care that is tailored to individual patients in a welcoming and friendly environment.
Campbell, CA (PRWEB) July 14, 2015
Ueno Periodontics is proud to welcome Dr. Jamie Chung to their practice. Dr. Chung was previously the chief resident at the world-renowned Harvard University periodontics program, where she conducted extensive clinical research at both Harvard and the Forsyth Institute.
Originally from Seoul, South Korea, Dr. Chung received a bachelor's degree in operations research and industrial engineering from Cornell University. She then received her Doctor of Dental Surgery degree from the University of California at San Francisco. After developing an interest in periodontics there, Dr. Chung went to Harvard to continue her studies of the dental field. During her years at Harvard, Dr. Chung also trained and honed her craft under some of the top clinicians and researchers in the world. She also had several scientific studies published in various dental journals during this time.
She has been published multiple times and was recognized at the recent Academy of Osseointegration meeting in San Francisco for her research in growth factors. As one of the brightest minds in the fields of periodontology and implantology, Dr. Chung is excited to come back and plant her roots in the Bay Area as she grew tired of practicing and living with those cold Boston winters.
See Dr. Chung's full biography on Ueno Periodontics' website at: http://uenoperiodontics.com/meet_drchung.html. Dr. Chung is excited to meet all of the wonderful patients at Ueno Periodontics. To meet Dr. Chung for a consultation and see how she can best serve periodontal and oral health needs, please contact their office at 408-371-7616, or email her directly at DrChung(at)UenoPeriodontics(dot)com.
About the company:
At Ueno Periodontics, Dr. Jeremy Ueno, Dr. Jamie Chung and the exceptional staff treat all of their patients' periodontal needs. They believe in conservative and predictable procedures to fulfill treatment needs and patient expectations. Their state-of-the-art office offers the most up-to-date equipment set in a relaxing and patient-friendly environment. Drs. Ueno and Chung offer all aspects of periodontal treatment ranging from esthetic laser and gum surgery to replacing missing teeth with dental implants. They are also very proud that they are able to offer laser periodontal surgery to their patients, which has many benefits over traditional periodontal or gum surgeries. For more information, please visit the Ueno Periodontics website at http://www.uenoperiodontics.com.