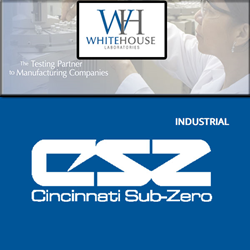 We have a strong focus on reinvestment in our Package Testing Lab and this investment is a way to improve our service offering to current and future clients
New York, NY (PRWEB) July 21, 2015
Independent testing laboratory, Whitehouse Laboratories announces another major capital investment for its Package Testing Laboratory. Responding to growing demands from life science companies, this investment centers on an increase in environmental chamber storage capacity allowing for a larger volume of packaging environmental conditioning and product storage to be performed – ultimately reducing testing turnaround times. This marks the second stage of major capital expenditure with the recent purchase of high performance environmental chambers from Cincinnati Sub-Zero (CSZ).
CSZ's Z-Plus Test Chambers are capable of simulating a wealth of temperature and humidity conditions with performance ranging from -73C to +170C and full relative humidity control allowing the lab to allow our lab to pre-condition products to simulate any shipping environment. Each unit is fully-programmable and capable of a variety of tests, from basic thermal cycling to accelerated stress testing. The equipment complements the Package Testing Laboratory's existing units from CSZ. Packaged-product environmental conditioning queue times can now be reduced with the added capacity – which is a benefit to all our valued clients.
"We have a strong focus on reinvestment in our Package Testing Lab and this investment is a way to improve our service offering to current and future clients," states Package Lab Director Eric Creveling. "We understand the challenges our clients' face to meet manufacturing and product launch deadlines. These chambers allow us to reduce lab testing queue times, to execute packaging design and validation projects more efficiently so that our clients' can reduce their time to market."
When asked about the relationship with Whitehouse Laboratories, Cincinnati Sub-Zero's Jeff Sterbling, Regional Manager said, "We began our relationship with Whitehouse Labs eight years ago supplying a high performance environmental temperature/humidity chamber. We look forward to continuing the long-standing relationship with our valued partner, helping support their future growth in the package testing arena."
Package performance testing is a key aspect of the product development and manufacturing process. As outlined by the International Safe Transit Association (ISTA) and referenced in the American Society for Tests and Measurements (ASTM) procedures D4169 and D7386, simulated distribution testing is critical to successful product launches. Packages that are delivered to either the wholesale or consumer level that have been damaged in shipment can create a major financial burden to any company. Laboratory-based package testing according to approved and internationally recognized quality standards builds a company's confidence that their product will be able to move through routine distribution intact and viable for use by the end user.
About Whitehouse Laboratories
The Testing Partner to Life Sciences, Whitehouse Labs is an independent contract testing lab that is FDA regulated, DEA Licensed, ISO 17025 and ISTA certified offering testing services for the pharmaceutical, medical device, personal care and consumer product industries. Whitehouse Laboratories offers comprehensive analytical services for materials, finished products, container and package systems that enable our clients to meet and exceed the required quality standards established by the key regulatory agencies.
About Cincinnati Sub-Zero
CSZ is a leading supplier of high quality environmental test chambers including stability chambers, temperature-cycling chambers, humidity chambers, accelerated stress-testing chambers, HALT & HASS chambers, thermal-shock chambers, altitude chambers, AGREE vibration chambers, industrial freezers, and more. Since 1940, companies have relied on CSZ to supply test chambers helping make products more robust, reliable and safe. Please visit http://www.cszindustrial.com for additional information.