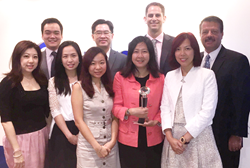 According to Gartner's 2015 CIO Agenda, 87 percent of CIOs in Asia/Pacific agree that the increasingly digital world is creating new, different and higher levels of risk.
Hong Kong (PRWEB) July 16, 2015
One of the major challenges facing business leaders in the region is to ensure their enterprises survive and thrive in a rapidly evolving technology landscape. According to Gartner's 2015 CIO Agenda, 87 percent of CIOs in Asia/Pacific agree that the increasingly digital world is creating new, different and higher levels of risk. By tapping its global network of resources, Gartner Hong Kong works closely with CIOs and IT leaders to deliver contextualized research, technology-driven insights and opportunities for peer-to-peer exchange through Gartner Executive Programs – the world's largest community of CIOs.
"Gartner brings thought leadership in the various IT management disciplines spanning from strategy to technology, which is crucial in today's fast-changing business environment," said Susan Poon, Vice President, IT Asia at Rockwell Automation, a client of Gartner. "The Gartner executive team works closely with me to link my business problems with sound advice and research while providing a peer connection platform to share industry practices and experiences."
Hong Kong has long been a prominent financial hub within Asia/Pacific and is home to numerous multinational enterprises in banking and financial services. As the focus on digitalization sharpens, it becomes increasingly important for this sector to have a clear line of sight to those technologies and trends that will influence customer demands and service delivery. Hong Kong enterprises and government organizations are forecast to spend HK$108.2 billion on technology products and services in 2015.
"For the past several years, BEA has greatly benefited from information provided by Gartner when developing and analyzing technology strategies for our bank," said Eric Wong, Group CIO, General Manager & Head of Technology and Productivity Division, The Bank of East Asia Ltd., another client of Gartner. "Gartner's well-crafted and comprehensive reports have enabled us to formulate highly effective IT strategic plans."
"Over the past decades, our clients have witnessed the mass adoption of the Internet, followed by the embrace of e-commerce and more recently digital transformation," said Tom Kinslow, Managing Vice President, Greater China, Gartner. "Gartner's global team of analysts remain at the forefront of change in order to help our clients make the right strategic decisions."
"The Gartner Hong Kong team is very proud to have participated in this initiative to recognize the contributions of international firms," said Lester Owencroft, Area Vice President and Country Manager, Gartner Hong Kong. " Winners were selected by a panel of judges including industry experts and is a testament to the value that we continually deliver to our clients in this region."
About Gartner
Gartner, Inc. (NYSE: IT) is the world's leading information technology research and advisory company. The company delivers the technology-related insight necessary for its clients to make the right decisions, every day. From CIOs and senior IT leaders in corporations and government agencies, to business leaders in high-tech and telecom enterprises and professional services firms, to technology investors, Gartner is the valuable partner to clients in approximately 10,000 distinct enterprises worldwide. Through the resources of Gartner Research, Gartner Executive Programs, Gartner Consulting and Gartner Events, Gartner works with every client to research, analyze and interpret the business of IT within the context of their individual role. Founded in 1979, Gartner is headquartered in Stamford, Connecticut, USA, and has 6,800 associates, including more than 1,500 research analysts and consultants, and clients in 90 countries.