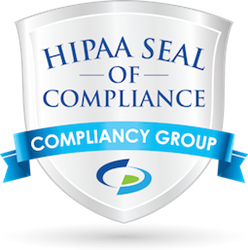 MSP's MUST stand out from the crowd in order to compete avoid being stuck in the whirlpool race to the bottom. Working with the Compliancy Group and MSPs who offer compliance-as-a-service have a 97% higher chance of winning new business
Huntington, NY (PRWEB) July 15, 2015
Compliancy Group, LLC, creators of the cloud-based compliance tracking solution, The Guard, now empower MSPs to solve the critical issues of HIPAA compliance for themselves and their clients by offering Compliance-as-a-Service. Armed with years of auditing experience and The Guard, Compliancy Group has helped over 1,000 Covered Entities and Business Associates Achieve, Illustrate, and Maintain compliance.
Compliancy Group noticed a prevalent market misconception - that a risk assessment is enough to satisfy HIPAA compliance. According to HHS, 70% of the market is not HIPAA compliant while CMS states that 79% of Meaningful Use Audits result in failure. The two biggest factors: incomplete risk assessments and the lack of understanding between the difference of HIPAA and HITECH compliance. With massive breaches like Anthem Blue Cross/Blue Shield and mandatory 5% Meaningful Use Audits, Covered Entities are looking to their MSPs to provide a solution.
"MSPs are in the ideal position to address their client's critical regulatory challenges by offering compliance-as-a-service (CaaS). MSPs as the trusted provider can leverage the existing relationship to offer new services that solve the client's critical needs while adding recurring and highly profitable new revenue streams." – Marc Haskelson (CEO of Compliancy Group, LLC)
The Guard alleviates and simplifies the complexities associated with HIPAA compliance. The Guard is a complete end-to-end compliance solution that includes: comprehensive risk assessments (Security, Privacy and Administrative), gap identification, remediation planning (Meaningful Use Core Measure 9 & 15), incident management, policies, procedures, and training. Our proven process includes: comprehensive tracking of employee training, business associate and document management. Along every step of the journey is an experienced Compliance Coach leading the way.
Compliancy Group offers free educational webinars for MSPs and Business Associates to provide knowledge on the complex aspects of HIPAA compliance and the giant opportunity that is Compliance-as-a-Service. By offering Compliance-as-a-Service, MSPs can quickly become compliant and help their clients save time, money, and limit liabilities. The Guard's white-labeled option is the only end-to-end compliance solution (CaaS), empowering MSPs to increase profits, retain and acquire new clients.
Compliancy Group's Compliance-as-a-Service webinars are available on Thursday, July 16th 2:00-3:00 PM EST and Tuesday, August 18th 2:00-3:00 PM EST. Space is limited, so sign up now! To register visit http://compliancy-group.com/compliance-as-a-service-for-msps-webinar
About Compliancy Group, LLC
Compliancy Group allows anyone to simplify the challenge of compliance, whether they are an experienced compliance expert or a practice manager. Created by HIPAA auditors, The Guard is a simple, cost-effective, and cloud-based that addresses every aspect of compliance. Our proprietary Achieve, Illustrate, and Maintain methodology with Compliance Coach support helps to address the entire set of HIPAA, HITECH, Omnibus, and PCI regulations. Visit http://www.compliancy-group.com or contact us at 855.854.4722 (855 85 HIPAA) to learn how simple compliance can be. http://compliancy-group.com/hipaa-for-msps/