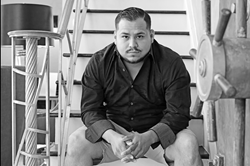 Houston, Texas (PRWEB) July 15, 2015
Elio Reyes, a licensed real estate agent in the Houston, Texas, market, has joined the prestigious Haute Living Real Estate Network.
The Haute Living Real Estate Network (HLRN) of Hauteresidence.com is proud to recognize Elio Reyes as a prominent real estate professional and the network's newest partner. HLRN unites a distinguished collective of leading real estate agents and brokers, highlighting the most extravagant properties in leading markets around the globe for affluent buyers, sellers and real estate enthusiasts.
About Elio Reyes:
Born in Monterrey, Mexico, Elio Francisco Reyes is now a Houstonian of over 28 years. He prizes Houston's diversity and vibrant lifestyle, especially as it now solidifies its identity as a major world city. What Elio loves most about Houston is that the city is booming with opportunity–for cultural enrichment, for economic prosperity, and above all, for an excellent quality of life. With a renowned dining and arts scene, hugely diversified economy, and neighborhoods that each have their own distinct charm and brand of comfort, Houston truly does offer "haute" living.
Before joining Boulevard Realty, Elio spent seven years in international trade between the United States and Mexico, which gave him a broad perspective on Houston's economy and unique place in the global marketplace. While working in that field, Elio also developed a passion for forming authentic, long-term relationships that elevate business connections to true community ties, all while honing his negotiating skills. Combining this set of skills and expertise with fluency in Spanish and a cultural background in Latin America, he is now assisting Mexican national clientele with purchasing homes in the U.S., as well as helping investors who are acquiring properties for development. He has experience working with a wide range of buyers, sellers, and renters in both residential and commercial real estate, who come from every walk of life and any one of Houston's growing job sectors.
Elio is also backed by Boulevard Realty, a top grossing boutique real estate firm in Houston with more than 65 independent agents, 19 staff persons, and more than $216 million in sales during 2014. The firm's name is reflective of its reputation for neighborhood-centric niche marketing and representation of the city's premier living areas that offer a connection to the past, involvement in urban transformation, and provide a strong sense of community. Located at 1545 Heights Boulevard with a second location at 6117 Kirby Drive, Boulevard Realty offers the latest in real estate listings, technology, and information to help you buy or sell a home. Elio puts all of Boulevard's strengths to work in representing his clients.
Along with his wife Brenda, Elio is the proud parent of four children. He also spends his (rare) free time with his family, at the movies, enjoying all of Houston's sports and fine dining, and traveling. Whether you're looking to sell, lease, or buy a home or commercial property in the greater-Houston area, Elio can help.
To learn more, visit Elio Reyes' Haute Residence profile: http://www.hauteresidence.com/member/elio-reyes
About Haute Living Real Estate Network (HLRN)
Haute Living Real Estate Network (HLRN) of Hauteresidence.com offers readers the most prominent directory of experienced realtors, brokers and luxury listings, and HLRN has grown to be the number one source for real estate news, residential developments, celebrity real estate news and more. Seeking an experienced interior designer? Hauteresdience.com is also home to Haute Design Network (HDN), a collective of celebrated interior designers that will help you decorate your new home or state an active listing.
Access all of this information and more by visiting: http://www.hauteresidence.com