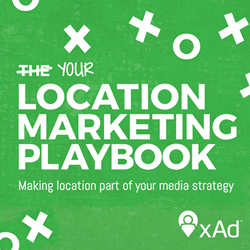 Location marketing provides the key to helping marketers increase awareness and sales by reaching the right people based on the real places they visit every day.
New York, NY (PRWEB) July 15, 2015
xAd, the global location marketplace, today released its first e-book, The Location Marketing Playbook, an introductory guide that shares how marketers can use location-based data and insights to reach their target consumers and drive store visits and sales through mobile engagement. The Location Marketing Playbook provides a compilation of best practices, winning strategies and insights that have led to some of the most successful location-based mobile marketing campaigns for top national and global brands alike.
Location has become a major component of the media mix, especially in mobile. Researchers at BIA/Kelsey predicted that location targeted mobile advertising will grow faster than overall mobile advertising, and will represent 43% of mobile ad budgets by 2019.
"Consumers are browsing, multitasking and turning to their mobile devices during all points of their path to purchase. Yet, only a fraction of those behaviors end in an online purchase," explained Monica Ho, Head of Marketing, Infrastructure at xAd Inc. "What mobile has effectively done is made in-store shopping new again with applications that allow easy access to expanded product information, integration of loyalty programs, online buying to in-store pickup options and more. Location marketing provides the key to helping marketers increase awareness and sales by reaching the right people based on the real places they visit every day. By knowing the places people actually visit, marketers can better influence where people will visit next."
To help marketers better understand the opportunities that exist today with location-based mobile marketing, xAd's Location Marketing Playbook outlines:

Four ways on-demand, location-based services have changed consumer behavior, including how people eat, shop, travel and even date.
Testimonials from Mobile Disruptors, a video interview series co-produced by xAd and the Mobile Marketing Association (MMA), featuring top marketers from eTrade, Heineken USA and Wendy's
Several case studies across various industries from brands such as UK-based retailer ASDA, electronics brand Philips, ice cream manufacturer True Moo, restaurant Outback Steakhouse and more
Five strategies marketers can use to leverage location effectively to drive store visits, brand awareness and sales
Four best practices for producing effective mobile creative for advertising campaigns
Ho, who co-chairs the Location Committee for the Mobile Marketing Association (MMA), concluded, "With the Location Marketing Playbook, now marketers have the ability to learn from leaders across industries to find out how they can make location work for their brands and businesses to drive physical visits and sales."
Each month, xAd sees 300 billion ad requests from over 30,000 popular apps on its platform. With patented technology, xAd observes the places people visit by mapping those ad requests to physical locations, providing an index of real-time of consumer visitation behavior. xAd helps marketers harness those insights to more effectively drive where people will actually visit next.
Visit http://www.locationplaybook.com to learn how location marketing can drive your business.
About xAd
xAd is the global location marketplace that uses the context of location to create meaningful mobile advertising experiences. Our patented technology platform identifies where someone is or has been with precision and at scale, enabling marketers to use these insights to drive in-store traffic and sales. xAd's global location marketplace allows nearly 1 million advertisers to reach 300 million unique devices in 300 billion mobile moments each month. Connect with xAd at http://www.xad.com