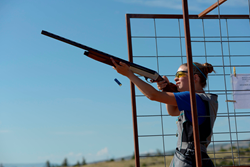 Shooting matches and fast draws [were] based on a single, key question: Who was the best shot?
Cody, Wyoming (PRWEB) July 16, 2015
Target shooting enthusiasts have until August 1 to register for the 22nd Annual Buffalo Bill Invitational Shootout in Cody, Wyoming, August 6 – 8. The event launches at both the Buffalo Bill Center of the West's Cody Firearms Museum and the Cody Shooting Complex. Registration is limited to a maximum of 100 participants; as a result, entrants are encouraged to register as soon as possible online or by contacting Rebecca Taggart at 307-578-4025.
"The Shootout has a long history behind it—not only its 22 years, but generations of firearms stories and history that came before it," explains Acting PR Director Marguerite House. "Indeed, the story of the West really is incomplete without the firearm, which leveled the playing field between a settler and his dinner, and provided protection for his family. It didn't take long, though, before those skills morphed into shooting matches and fast draws based on a single, key question: Who was the best shot?"
For example, to earn money for her family, 15-year-old Annie Oakley hunted small game for local hotels and restaurants. One customer was so impressed with her shooting that he invited Annie to a contest against well-known marksman, Frank E. Butler. Oakley won the match hitting all 25 targets; Butler missed one. (He didn't hold a grudge, though: The two shooters later married and traveled with Buffalo Bill's Wild West for 16 years.)
"This is the vibe the Shootout targets as it aims to show the importance of the shooting sports, America's firearms industry, and the history of firearms," House explains. The contest is a 350-target shoot in which competitors of all skill levels shoot skeet, trap, five-stand, and sporting clays with all gauges of shotguns.
"The Shootout is also loaded with some extraordinary prizes and auction items that make this an event that would surely have made Annie Oakley proud," House adds. "All the proceeds benefit the interpretive programs of the Buffalo Bill Center of the West and its Cody Firearms Museum. We encourage participants to register today for this fun weekend dedicated to shooting sports."
Entrant check-in begins at 5 p.m. Thursday, August 6, at the Buffalo Bill Center of the West followed by a cocktail party for all shooters and their guests at the entrance of the Cody Firearms Museum, 5 – 7 p.m. and a Calcutta with teams to be determined on a random draw basis. Competition begins at 9 a.m. Friday and Saturday—rain or shine—at the Cody Shooting Complex, approximately five miles north of Cody on Highway 120; spectators are welcome. Winners are announced at the awards dinner that evening at the Center.
Click here to learn more about the Shootout, its schedule, and fees.
______________________________________________________________________________________________________
Since 1917, the award-winning Buffalo Bill Center of the West in Cody, Wyoming, has devoted itself to sharing the story of the authentic American West. The Center, an affiliate of the Smithsonian Institution, is now in its summer schedule, open daily 8 a.m. – 6 p.m. For additional information, visit the Center's website or its pages on Facebook and Google+.