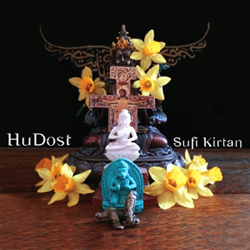 Boulder, Colorado (PRWEB) July 16, 2015
The latest album by HuDost marks the neo-folk/world/rock ensemble's tenth anniversary, but Sufi Kirtan (coming out 8/7/15 from White Swan Records / HuDost) is no retrospective. In track after track, Moksha Sommer, Jemal Wade Hines and their musical entourage bring newfound perspective and innovative musical stylings to ancient mantras of love and healing.
While most of the chants are in Arabic, reflecting Sommer and Hines' longtime practice of Sufism, the album is a tapestry of cultures and faiths, at once surprising and mesmerizing. It will appeal to yoga practitioners, kirtan enthusiasts, ecstatic dance folks, and even people "who don't normally listen to sacred music," says Sommer, such as HuDost's rock fans.
The album features 11 tracks, including Iavnana, which weaves together a Sufi chant, a traditional Georgian lullaby, and a Hindu chant honoring the feminine and masculine aspects of the Divine. Recitations central to Judaism, Christianity and Islam come together on the a cappella Abrahamic Zikr. The song Universal Worship is an interfaith odyssey, paying homage to half a dozen spiritual traditions in just under eight minutes.
HuDost's core musicians bring myriad influences to bear on the album. Sommer, the lead composer and singer, has studied 12 different vocal styles from around the world. Hines lends a rock sensibility and sonically rich layers of vocals, guitar and synths. The A-list musicians accompanying them on Sufi Kirtan include violinist Martha Mooke (who has performed with such artists as David Bowie and Barbra Streisand), tabla player Arjun Bruggeman (Krishna Das) and flutist George Tortorelli (Ram Dass, Pat Metheny).
Sufi Kirtan is sure to position HuDost as a healing force to be reckoned with in modern mantra music.
Boulder-based White Swan Records, a leader in the devotional and yoga music genre, will release Sufi Kirtan on August 7th.
ABOUT HUDOST
HuDost is a genre-spanning ensemble whose music elicits tears and laughter, stoking that nameless longing which abides somewhere in all our hearts. Core musicians Moksha Sommer and Jemal Wade Hines have extensively toured North America and Europe since 2006. The Montreal- and Nashville-based couple are equally comfortable performing at mainstream events (Bonnaroo, Floydfest) and at yoga festivals and spiritual retreat centers (Bhakti Fest, Kripalu, Omega). They have opened for Ani DiFranco, Philip Glass and Snatam Kaur, recorded with Jon Anderson of YES, and worked with Grammy-winning producer Malcolm Burn (Bob Dylan, Emmylou Harris) and mixer Oz Fritz (Tom Waits, Primus). Sufi Kirtan is HuDost's seventh album and comes just five months after the release of The Word is..., a collaboration with Steve Kilbey, of the Australian post-punk band The Church.
"HuDost is the next big thing. Mark my words." - Steve Kilbey (The Church)
"HuDost offers...cross-cultural hybrid transcendental chill-out music with an edge. This is not fluffy new-age music—
it's serious, complex fare...[and] a journey of music and spirit." - Chronogram magazine