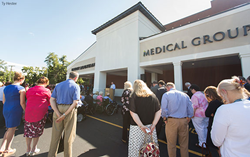 Lynchburg, VA (PRWEB) July 15, 2015
A ribbon-cutting ceremony on Tuesday, July 14, celebrated the opening of the Liberty Mountain Medical Group (LMMG), a new Lynchburg, Va., primary care medical clinic on Wards Road in the K-Mart shopping center. Several community leaders and health care professionals were in attendance.
LMMG is a joint venture between Liberty University College of Osteopathic Medicine (LUCOM) and Central Virginia Family Physicians (CVFP), a collection of eight private family practices, with physicians from both entities staffing the facility.
President Jerry Falwell joined LUCOM and CVFP leaders at the event, thanking Liberty's Planning & Construction team for the renovations, which were done in seven months. He expressed his appreciation for CVFP adding its expertise to this venture, pointing out that they bring "years of respect and experience in (Lynchburg)."
"We are blessed to have their involvement, and we are so excited about this opportunity for our medical students to serve and to learn and we hope it will become a real asset for the City of Lynchburg," he said.
Dr. Ronnie Martin, dean of LUCOM, thanked Liberty faculty, staff, and leadership for its dedication, as well as the CVFP staff for its partnership. Martin noted LUCOM's dedication to collaborate with Lynchburg's established medical community, noting partnerships with Centra and other local health care facilities.
"We need a very strong affiliation with the physicians who see patients," he said. "This clinic represents tangible proof of the commitment that Liberty University has to improve the quality of life in Lynchburg and to provide increased access to services for the people of Lynchburg because health care is an engine — it's an economic engine, it's a quality of life engine — Liberty has that commitment."
Martin added that students will have some opportunities to shadow physicians this year, but will be assigned to the clinic next year.
"We know that if you put strong role models in front of students, mentors that they admire, they become their heroes and adopt their principles," Martin said. "This is an important part of fulfilling our mission and fulfilling the potential of Lynchburg and South Central Virginia."
Dr. Thomas Eppes, president of CVFP, shared his excitement over the many benefits that the clinic and the partnership between CVFP and LUCOM will offer — both for the medical community and residents of the area.
"This office is the first step of many to come to provide a center for students to learn, for professors to sharpen and hone their skills, and for those of us in private practice to rejuvenate our love of medicine and the lifelong learning that it entails to be a good physician," he said.
Tours of the facility were given after the ceremony.
The LMMG was built as a general family practice with a commitment to treat patients of all ages, incomes, physical abilities, races, and ethnicities. It will provide family medicine, internal medicine, osteopathic manipulative medicine, pediatrics, sports medicine, and women's health to residents of Lynchburg and the surrounding areas. The clinic was designed to handle 180-200 patients a day.
The clinic is equipped with state-of-the-art technology, offering digital X-ray, bone densitometry, and full ultrasound capabilities, as well as facilities to run diagnostic laboratory tests and cardio-pulmonary stress tests. Future plans call for the development of occupation and sports medicine treatment and rehabilitation services, as well as counseling and behavioral health services.
While the LMMG is not an immediate care facility, its partnership with CVFP means that patients will be able to utilize CVFP immediate care centers if an emergency arises. They can be confident that attending physicians will have access to their medical history, ensuring seamless care and decreasing the incidence of unnecessary or duplicated tests or medication errors.
This is possible through the "patient-centered medical home" approach, a model of primary care utilized by CVFP, LUCOM, and the LMMG that combines teamwork and information technology to improve patients' health and their experience of care while reducing costs. By sharing access to medical records among the members of a patient's health care team — including personal physicians, specialists, emergency care doctors, nurses, and pharmacists — each practitioner is fully informed and able to give the highest level of care possible to their patients.
This team approach to delivery of care not only increases efficiency and provides patients with a big-picture view of their health, but, more importantly, it allows the focus of patient care to shift from disease treatment to disease prevention. And patient-centered wellness, not simply the treatment of illness, is at the heart of LUCOM's mission.
Read more about the LMMG and its mission in the Summer 2015 Liberty Journal.
About Liberty University
Liberty University, founded in 1971, is the largest private, nonprofit university in the nation, the largest university in Virginia, and the largest Christian university in the world. Located near the Blue Ridge Mountains on more than 7,000 acres in Lynchburg, Va., Liberty offers more than 450 unique programs of study from the associate to the doctoral level. More than 200 programs are offered online. Liberty's mission is to train Champions for Christ with the values, knowledge, and skills essential for impacting tomorrow's world.