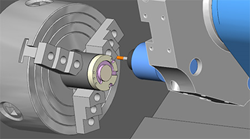 I couldn't be happier with what our team has done to make this one of the easiest and most flexible systems available for the multitasking market.
Clearwater, Florida (PRWEB) July 15, 2015
BobCAD-CAM, Inc. today announced the availability of the BobCAD-CAM v28 Mill Turn software. The product is available as an add-on module for the company's Version 28 CAD-CAM software. Designed for shops with mill turn / multitasking machines, the Mill Turn software delivers critical design, programming, and simulation systems built with BobCAD-CAM's signature ease of use interface technology.
"We are very excited to get this Mill Turn product into the hands of our users, as they have been asking for it for quite some time," said Greg Myers, Development Executive, BobCAD-CAM. "This is an important addition to our product line as we can now offer a full CAD-CAM solution to nearly every type of machine shop out there. I couldn't be happier with what our team has done to make this one of the easiest and most flexible systems available for the multitasking market. I look forward to expanding upon this product and adding even more power as we assess what our customers need most."
Available Features in Mill Turn
The Mill Turn software supports nearly all mill turn, multitasking, and live-C machine configurations. This can include setups with multiple turrets, multiple spindles, programmable tailstocks & steady rests, part catchers, and machines with B (5 axis), C, and CY axis capabilities.
The C axis milling capabilities of Mill Turn supports the positioning and contouring motion on the outside diameter and part face which can be used with indexing, wrapping, and rotary toolpaths to drill holes, cut pockets, and more along the part's center line. Y axis milling support gives the user the ability to perform milling operations both on and off the part's center line, allowing for 2, 3, and 4 axis milling and cross drilling on the outside diameter and part face. B axis, or 5 axis, milling head programming can be used with single spindle and sub-spindle machine setups to provide the flexibility to best target the part when performing facing, pocketing and hole drilling operations on complex part models.
Mill Turn offers a full machine simulation that utilizes the user's machine kinematics to provide an accurate representation of the complete part machining process with cycle time calculations, collision detections, machined part deviations and much more.
Also included is MDI programming capabilities, which allow the user to set up the sequence of actions that are performed within the Mill Turn machine. These event sequences can include actions performed before tool changes, after tool changes, or after an operation is completed.
BobCAD-CAM Version 28
The Mill Turn module releases alongside the BobCAD-CAM's Version 28 software. The company's new v28 software offers improved drawing control in CAD, custom tool shapes for milling tools, upgrades to the hole drilling system, new tabbing options, enhancements to wrapped toolpath capabilities, a new simulation interface, and much more.
Availability
Demo's of the new Mill Turn software is available now for immediate download from BobCAD.com. The software can also be purchased from company's product page BobCAD.com/cad-cam-software-products/. For more detailed information about product features, visit BobCAD.com/products/mill-turn-cad-cam-software/ or call 877-262-2231 or 727-442-3554.