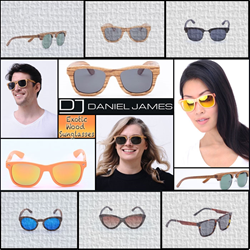 The fit is great, no slipping, and the clarity is amazing. Driving west on the highway on a sunny afternoon used to be dreadful, but my DJ's turn the glaring sun into tiny points of blue
Cape Cod, MA (PRWEB) July 21, 2015
Today, Daniel James Eyewear LLC ("DJ Eyewear"), is pleased to announce the exciting launch of their line of exotic wood sunglasses, classic sunglasses and swim goggles.
Daniel James Eyewear was created to provide high-quality, fashionable eyewear – without high designer prices – for people of all ages to enjoy the passions in their life. DJ Eyewear products are as beautiful as they are unique. Our wood sunglasses are made of sustainable varieties of wood from around the world including ebony, zebrawood, maple, redwood, bamboo and African hardwood.
DJ Eyewear frames are lightweight, durable, eco-friendly, and thoroughly eye-catching. Our lenses come in a variety of attractive tints and shapes and protect your eyes from harmful ultra-violet rays. And, all of our wood sunglasses have spring hinges which allows them to automatically adjust to the size of your head, ensuring a comfortable fit, with no slipping. The DJ Eyewear swim collection offers superior construction and performance for water-enthusiasts of all levels.
DJ Eyewear is a perfect complement for all who enjoy an active, vibrant lifestyle.
Visit our website at http://www.danieljameseyewear.com to see our full product line and new offerings.
We would like to thank the following agencies who played an integral role in the launch of Daniel James Eyewear. Carol Evans, a well-known professional photographer, captured the essence of the Daniel James Eyewear line as evidenced by her beautiful photos of our product line and the models wearing the products. Thank you to Erin Walsh of Phlash Fotography & Artistry who provided the beautiful organic photographs of our products. Many thanks to Maggie, Inc. for providing the beautiful and handsome models on our website, Devon Diep, Kirsten Hede-Brierley and Christopher Garafola. A very warm thank you to George and Lynne Andrea Vago of Al Dente' Creative who created our logo, our print display, and provided savvy marketing guidance. And finally, many thanks to Ed Olimpio of MyGoodProfile.com, an expert on search engine optimization and internet marketing.
Testimonials:
1. It was love at first sight, the natural wood, the smooth feel, and I looked pretty cool too…for an old broad. But my DJ's turned out to be much more than just a pretty bauble. The fit is great, no slipping, no pressure on my sinuses (allergy season can be the worst!) and the clarity is amazing. Driving west on the highway on a sunny afternoon used to be dreadful, but my DJ's turn the glaring sun into tiny points of blue – amazing! Thanks, Daniel James Eyewear! - Mary, Rhode Island
2. I purchased a pair of DJ's Tortoise shell/Redwood sunglasses, and honestly, I could not be happier. They are superior in quality to the "big name brand" pair of sunglasses I had previously purchased. The lenses are incredible and I can see things crispy and clearly. Because of the spring hinges, they fit my fat head like a glove. And they are extremely fashionable. I get compliments about them whenever and wherever I wear them. I would highly recommend DJ sunglasses to anyone interested in quality, comfort and fashion. – Brad, Illinois
About Daniel James Eyewear
Based on Cape Cod, Massachusetts, Daniel James Eyewear offers high-quality and fashionable eyewear at reasonable prices to protect the eyes of your loved ones. Daniel James Eyewear offers exotic wood sunglasses, classic sunglasses and swimming goggles on a retail and wholesale basis. If you are interested in trying out a pair of our eyewear, or have questions, please contact us at info@danieljameseyewear.com. You will be glad you did.