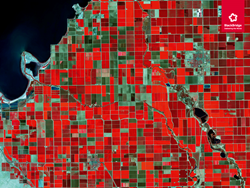 Berlin (PRWEB) July 16, 2015
BlackBridge, a leading provider of satellite imagery and geospatial solutions, announced today that it has entered into a definitive agreement for Planet Labs to acquire the RapidEye suite of core offerings. Planet Labs is provider of a dataset of satellite imagery based in San Francisco, California, that designs, builds, and operates a fleet of earth imaging satellites.
This is the next step toward achieving BlackBridge's mission to explore the earth to empower decisions, which aligns perfectly with Planet Labs' mission. For years, BlackBridge has served customers across a broad range of domains, but has fundamentally focused on agriculture, energy & infrastructure, consumer mapping, government, business intelligence, environmental & social impact. The result of this union with Planet Labs is expected to increase the value BlackBridge provides to existing customers and provide the means to expand into new domains.
The company is expected to operate largely as it does today. It is anticipated that customers will continue to experience the exceptional service they've come to expect from BlackBridge and will soon see the benefits of this new alliance.
BlackBridge's CEO, Ryan Johnson is confident in the potential for growth that this opportunity brings. "The combination of BlackBridge's downstream knowledge and global reach, with Planet Labs' strategy for agile aerospace, will create a long-term competitive advantage for the combined company. We expect the industry to become far more competitive over the next number of years with traditional players implementing new strategies and new competitors entering. The ability to continue to lead and adapt quickly to changing needs will be the key to continued success."
Will Marshall, Planet Labs' CEO, strongly believes that "Planet & BlackBridge have great mission alignment and offer complementary capabilities. BlackBridge brings a significant, global book of business, and a substantial 5 meter data archive from which to monitor global change. We're excited to fold their talented team, data collection, and deep industry roots into our rapidly growing operation."
The transaction is subject to the customary closing conditions and is expected to close during the third quarter of 2015.
For more information, read Ryan Johnson's open letter and Planet Labs' blog post.
About BlackBridge
BlackBridge provides end-to-end solutions across the geospatial value chain. This includes satellite operations, ground station services, data center and geocloud solutions, worldwide distribution through over one hundred BlackBridge partners, and the creation of value-added products and services. For more information, please visit blackbridge.com or follow the company on Twitter @BlackBridgeCorp.
About Planet Labs
Planet Labs is a San Francisco-based provider of imagery that designs, builds, and operates the world's largest constellation of Earth-imaging satellites. Planet's mission is to image the entire Earth, every day, which is foundational to solving commercial, environmental, and humanitarian challenges. This unprecedented and timely access to global and local insights is currently either impossible or cost-prohibitive to obtain. Learn more at http://www.planet.com or follow us on Twitter @planetlabs or email hello(at)planet.com for more information.
Forward-Looking Information (BlackBridge)
This news release contains certain information which, as presented, may constitute "forward-looking information" within the meaning of applicable securities laws. Statements containing forward-looking information are typically identified by words such as "will", "should", "anticipate", "expect", "project", "estimate", "forecast", "plan", "intend", "target", "believe", "may", "could" and similar words suggesting future outcomes or statements regarding an outlook. Forward-looking information or statements included in this news release include, but are not limited to, statements with respect to the Transaction and the satisfaction of closing conditions in respect thereof. Forward-looking information is based on current expectations, estimates and projections that involve a number of known and unknown risks and uncertainties, many of which are beyond the ability of BlackBridge to control or predict, which could cause actual results, performance or achievements to differ materially from those anticipated by BlackBridge and described in the forward-looking information including, but not limited to, risks related to the satellite imagery industry and economic factors affecting BlackBridge or the market in general, and risks related to the inability by BlackBridge or other parties to satisfy conditions to the closing of the Transaction. The forward-looking information contained in this news release is made as of the date hereof, and BlackBridge undertakes no obligation to update publicly or revise any forward-looking information, whether as a result of new information, future events or otherwise, unless required by applicable securities laws. The forward-looking information contained in this news release is expressly qualified by this cautionary statement.