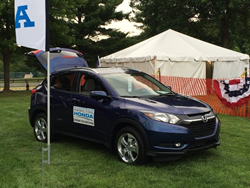 "Every year, the East Windsor Township fireworks event is a great time for everyone who attends." -Mike Saporito
HAMILTON, NEW JERSEY (PRWEB) July 15, 2015
Hamilton Honda is proud to have recently sponsored the East Windsor Independence Day Fireworks event, which took place in Etra Lake Park on Thursday, July 2, 2015.
More than 1,000 residents and community members attended the event, which featured entertainment from Jerry Rife's Rhythm Kings Dixieland Jazz Band as well as the Trenton Brass Quintet Plus One Band in addition to the fireworks display.
At 6 p.m., Hamilton Honda joined the festivities at the event, bringing along the newest Honda models like the all-new 2016 Honda Pilot, Honda HR-V, and Honda CR-V. The dealership's staff were excited to showcase the models and highlight their features for the crowds.
"We always look forward to events like this one," said Mike Saporito, co-owner of Hamilton Honda. "It's a great opportunity for us to showcase our incredible lineup, and it allows us to meet and interact with our local community members. Every year, the East Windsor Township fireworks event is a great time for everyone who attends."
Hamilton Honda has sponsored this event in the past, and plans to continue its relationship with the East Windsor Township community for years to come.
ABOUT HAMILTON HONDA
Hamilton Honda was founded by former New York Giants Pro-Bowl linebacker Jessie Armstead and automotive veteran Mike Saporito, and opened its 65,000-square-foot, state-of-the-art facility in Hamilton, New Jersey, on May 19, 2009. The dealership has earned numerous accolades, including the Hamilton Township New Business Award, Hamilton Community Enrichment Award and "Dealer of the Year" at the 15th Annual Urban Wheel Awards in Detroit. The dealership has also been recognized with the Council of Excellence Award in 2010, 2011, 2012, 2013 and 2014. To learn more about Hamilton Honda, visit http://www.hamiltonhonda.net/.