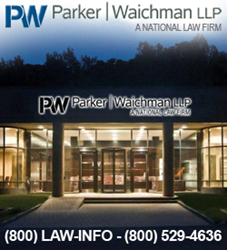 These individuals were selfless at a time when their country needed them most and, now, many are facing serious conditions because of their heroic actions
Port Washington, New York (PRWEB) July 15, 2015
Parker Waichman LLP, a national law firm that has spent many years fighting to ensure that the heroes of the 9/11 terrorist attacks are never forgotten, applauds legislators who support the James Zadroga 9/11 Health and Compensation Reauthorization Act. According to a July 8, 2015 announcement issued by Congresswoman Carolyn B. Maloney, the bill is now backed by 102 Members of the House of Representatives, including 24 Republicans. Congresswoman Maloney, who helped introduce the bill three months ago, said, "In less than three months, nearly a quarter of the House has coalesced behind the bipartisan effort. 9/11 victims and first responders have suffered immensely, both on the day of the attack and every day since. Many have developed severe health issues. This country owes it to these men and women to make sure each one of them has continued access to health care and the compensation they need to rebuild their lives. I am proud to see so many of my colleagues joining this effort," she noted.
Parker Waichman comments that the Zadroga Act is crucial for many responders who developed 9/11-related illnesses, such as chronic respiratory conditions and many different types of cancer. By renewing the Act, the World Trade Center (WTC) Health Program and the September 11th Victim Compensation Fund (VCF) would continue to provide benefits to responders and survivors. "These individuals were selfless at a time when their country needed them most and, now, many are facing serious conditions because of their heroic actions," said Matthew J. McCauley, Senior Litigation Counsel at Parker Waichman LLP. "The Zadroga Act is necessary to help save lives."
According to Parker Waichman, a number of 9/11-related illnesses can take years to manifest. "Extending these benefits helps ensure that these responders and survivors receive the care they need," said Gary Falkowitz, Managing Attorney at Parker Waichman. "We are pleased to see legislators supporting the renewal of the Zadroga Act.
Parker Waichman actively worked toward the 2010 passage of the Zadroga Act, including taking part in grass roots and lobbying efforts and trips to the nation's capital often, along with the firm's clients—other responders and survivors.
The firm continues to support the Zadroga Act and remains dedicated to fighting for the rights of responders and survivors. Recently, Parker Waichman was involved in the "Take Action" tool that allows responders, survivors, and advocates to review their Congresspersons' activities concerning the upcoming expiration of the James Zadroga Act. Parker Waichman assisted with the research on, and creation of, the Tool, which may be accessed at: Renew 911 Health Organization's website.
Parker Waichman, which worked alongside Ground Zero first responders, survivors, and their advocates to help ensure passage of the Zadroga Act and its amendments, continues to fight for reauthorization of the Act and vows to continue its efforts to safeguard these heroes and ensure that they receive all of the Zadroga Act compensation they deserve. If you or a loved one are eligible for compensation under the Zadroga Act, please visit Parker Waichman's website or call 1-800-LAW-INFO (1-800-529-4636).