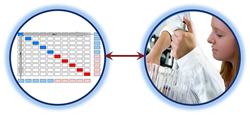 Madison, WI (PRWEB) July 17, 2015
Join us for a webinar on Wed, Jul 22, 2015 at 11:00 AM - 12:00 PM CDT: Making HTS Accessible with Orthogonal Pooled Screening
Despite the large number of HTS assay tools and facilities to choose from, actually performing a screen can be daunting, both technically and financially, especially for investigators who do not have ready access to a high quality compound library or HTS infrastructure. In this webinar, Dr. Mel Reichmann, Director of Chemical Genomics Center at the Lankenau Institute for Medical Research (LIMR, Wynnewood, PA) will describe the Orthogonal Pooled Screening (OPS™) Platform that he developed to provide a drastically more efficient and less expensive approach for rapidly finding leads from a unique library. The OPS™ Platform provides access to unique, drug-like libraries in a compressed format coupled to a powerful compound management infrastructure and data mining software.
BellBrook Labs is partnering with the LIMR to provide access to the Orthogonal Pooled Screening (OPS™) Platform. The company provides assay-ready plates with drug-like small molecules from a 104,000 compound library dispensed in an orthogonally pooled format for a 5-fold reduction in screening volume. Just perform your assay, send in your results, and we'll perform data deconvolution and cherry-pick hits based on your cutoff criteria.
In this webinar, you will learn how OPS:

Reduces screening resource commitment by 5X, saving you time, reagents and money.
Provides access to a pre-filtered small molecule library with unique scaffolds for pennies per compound and no IP reach-through.
Eliminates the need for HTS infrastructure; e.g., robotics and compound management.
Leverages state-of-the-art data mining software and chemoinformatic expertise to accelerate lead finding.
Allows more compounds to be screened in pilot scale projects, increasing chemical diversity and probability of hits.
After registering, you will receive a confirmation email containing information about joining the webinar.
About BellBrook Labs. BellBrook Labs is dedicated to accelerating drug discovery and biological research by providing innovative high throughput screening solutions for enzymes and phenotypic assays. The company's Transcreener® HTS enzyme assays, used by all of the major pharmaceutical companies, make it easy to screen thousands of different enzymes, including validated targets like kinases, as well as emerging targets like ATPases, GTPases, methyltransferases, and glycosyltransferases. The iuvo™ Microconduit Array technology and assay screening service is a line of unique microscale devices for miniaturization and automation of advanced cell models that are more representative of human physiology.