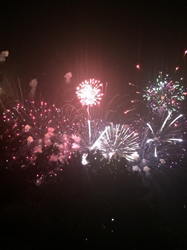 "We always enjoy events through which we can support our local community." -Mike Saporito
HAMILTON, NEW JERSEY (PRWEB) July 15, 2015
Hamilton Honda was proud to sponsor the recent Hamilton Township Independence Day Fireworks and Concert, held on Thursday, July 2 in Veteran's Park.
The event featured the music of the Renaissance Orchestra, and a fireworks show provided by the International Fireworks Company. Nearly 25,000 people came out to enjoy an evening of music, food, friends and fun.
"This year's show was incredibly successful in spite of the weather," said Mike Saporito, co-owner of Hamilton Honda. "We always enjoy events through which we can support our local community, and it was great to see so many families and community members out to celebrate the holiday."
This was the 7th year that Hamilton Honda has been a sponsor of this community event. During the evening, the dealership displayed more than 15 new 2015 and 2016 Honda vehicles, and had staff members on hand to meet with community members and conduct vehicle information sessions.
The entire staff at Hamilton Honda is proud to be a part of events like the Hamilton Township Independence Day Fireworks and Concert, and looks forward to participating again for years to come.
ABOUT HAMILTON HONDA
Hamilton Honda was founded by former New York Giants Pro-Bowl linebacker Jessie Armstead and automotive veteran Mike Saporito, and opened its 65,000-square-foot, state-of-the-art facility in Hamilton, New Jersey, on May 19, 2009. The dealership has earned numerous accolades, including the Hamilton Township New Business Award, Hamilton Community Enrichment Award and "Dealer of the Year" at the 15th Annual Urban Wheel Awards in Detroit. The dealership has also been recognized with the Council of Excellence Award in 2010, 2011, 2012, 2013 and 2014. To learn more about Hamilton Honda, visit http://www.hamiltonhonda.net/.