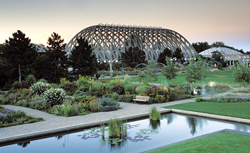 We look forward to welcoming gardeners and community organizers from around the world to Denver.
Denver, CO (PRWEB) July 16, 2015
Words like 'sustainable' and 'farm-fresh' have been used to describe Denver, the Mile-High, green city. This eco-friendly surge is one reason Denver has been chosen to host the 36th annual American Community Garden Association (ACGA) conference August 13-16.
Home to over 200 community gardens and urban agriculture projects, Denver has proven it's committed to providing quality, local food for families and neighborhoods.
"Denver has been on the forefront of providing resources and education for community gardeners since the formation of Denver Urban Gardens in 1985," said Brien Darby, secretary and central district board member for ACGA. "We're honored to have them as a co-host this year."
Joining Denver Urban Gardens, this year's conference is co-hosted by the Denver Botanic Gardens. Both of whom share ACGA's mission of bringing natural resources into city living and creating sustainable neighborhoods.
"We look forward to welcoming gardeners and community organizers from around the world to Denver. We have a rich history of growing together and fostering deeply rooted, inclusive communities," explains Shannon Spurlock, Denver Urban Gardens director of public affairs and policy. "We are excited to share our experience with others and in turn, learn from them as well."
A highlight of this year's conference will be keynote addresses from Chef Ann Cooper, an internationally recognized author, chef and advocate of healthy school lunches, and AmpleHarvest founder Gary Oppenheimer, supporter of gardeners partnering with food pantries.
This year's tours highlight old and new gardens as well as introduce the dedicated people who make the programs a success. Participants will learn firsthand about the achievements and failures of Denver's vigorous urban agriculture scene.
"In Denver and across the country, community gardens transform lives and rejuvenate neighborhoods," said Darby. "Attendees at the conference will learn how to start and maintain a community garden and connect with community gardening experts who have made it work."
This year conference features workshops and roundtables on topics such as:

Growing Lifelong Gardeners: garden sustainability through the next generation
Lean On Us!: benefits of community partnerships
Measuring Healthy Outcomes: the impact and worth of community gardeners
Not Quite Community Gardening: how to feed, involve and educate the public
Working with City Hall: policy changes
Hort 101: Seeds, Weeds, Pests and Other Garden Guests: crop selection and pest management
"The ACGA conference is the premier event for anyone interested in or working in the community gardening field," says Darby. "You will network with industry leaders and collaborate with the community. The exchange of ideas and experience that happens at our conference is invaluable."
Registration is open for the 2015 conference, held August 13-16 in downtown Denver. Click here to Register.
For further information, contact Brien Darby at DarbyB(at)botanicgardens(dot)org or visit https://communitygarden.org/conference
Founded in Chicago in 1979, The American Community Gardening Association's mission is to support people's quality of life through gardening, stimulating social interaction, encouraging self-reliance, beautifying neighborhoods, producing nutritious food, reducing family food budgets, conserving resources and creating opportunities for recreation, exercise, therapy and education.