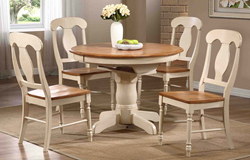 With the addition of Iconic Furniture and Coast to Coast, our customers have a lot more choices when shopping for their home furniture.
East Brunswick, NJ (PRWEB) July 16, 2015
Homelement introduces two new brands to their site: Iconic Furniture and Coast to Coast Accents. Each of these manufacturers offers many options for the type of furniture that they each specialize in. From dining to accent furniture, you are sure to find a high quality piece to use for years to come.
Iconic Furniture has derived from the concept of offering the highest styled casual dining sets available in today's market place. They specialize in simple, middle-priced mix and match dining sets. All of their products are hand crafted and finished by the most qualified furniture craftsmen. Every piece of wood is pre-selected prior to manufacturing to eliminate any defects. Their finishing line consists of a robotic-train system for constant watch for quality control.
Iconic Furniture offers many different sized dining tables and styled chairs in a variety of finishes to allow you to mix and match and select the exact style you would like. They offer many finishes like cinnamon, mocha, carmel/biscotti, grey stone/black stone, whiskey/mocha, and honey/sand. They also offer various types of chair styles such as Napoleon, contemporary slat-back, modern slat-black, butterfly-back, double x-back, transitional back, and ladder back. With all these options and the ability to mix and match, you are sure to select the perfect casual dining set for your home.
Coast to Coast Accents is an international manufacturer of quality accent furniture and seating with over 100 years of combined experience in the furniture industry. Their mission is to deliver quality home accents for the greatest value. They also work closely with their international team to focus on the highest level of quality control and support for product development.
Coast to Coast carry many different styles of accent furniture and seating from coastal, contemporary, mirrored, rustic and reclaimed, traditional and transitional. They carry everything from tables, servers, bookcases, chests, credenzas, desk, seating and more.
About Homelement.com
Homelement.com is a leading retail supplier of home furnishings with more than a dozen years of industry experience. Homelement offers a complete selection of home furniture from major furniture brands in various categories from dining furniture, bedroom furniture to living room furniture and more.