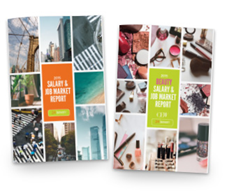 "The good news this year is that everyone seems optimistic about the future and the state of hiring," said Celeste Gudas, CEO & Founder of 24 Seven.
New York, NY (PRWEB) July 16, 2015
The latest annual study of job market trends by 24 Seven, the award-winning creative staffing and recruiting firm, finds that though total compensation rose by 5% on average, 7 out of 10 workers are planning a job move in the next 12 months. Confident about their chances in the job market, workers cited higher salary as the primary reason to move, followed by professional development and career pathing concerns. The report presents an optimistic hiring outlook for job seekers, as more than half of executives surveyed say their company will hire more people in the next twelve months than in the previous twelve, and sixty percent (60%) report that competition for talent is on the rise. 24 Seven has gleaned seven workforce dynamics from the data around compensation and benefits, talent mobility, candidate-favorable conditions, company culture, career pathing, training & development, and employee engagement.
"The good news this year is that everyone seems optimistic about the future and the state of hiring," said Celeste Gudas, CEO & Founder of 24 Seven, "But many companies are finding skilled talent scarce and increasingly in the driver's seat. As always with our annual study, our goal is to help companies improve their employment offers, evolve corporate culture, and develop a magnetic employment brand and workplace that's hard to leave."
Salaries Up But Not Enough, While Health Care Benefits Remain Important Retention & Recruitment Factors
Total compensation of non-executive workers rose by 5%, an increase over last year's 4%. Executives fared better with an average increase in total compensation of 9% (almost double last year's 5%). Only 11% of workers reported being very content with their salary, and named a better salary the number one reason to consider a job change. In fact, the data shows that landing a new job is the fastest way to a double digit percentage increase, as those in new roles reported a total compensation average increase of 10%. The majority of executives surveyed said that raises would be capped at 5%, the top reason for this being that salaries were competitive in their market as is. Employer-funded health care remains an important feature of employment, with the majority of workers holding the belief that providing health care is an employer's responsibility. Sixty-percent said that employer-funded health care plays a big role in whether to accept a job.
Talent On the Move, Many Currently Entertaining Offers from Other Employers
The majority of talent surveyed (70%) said they planned to make a career move within the year. Forty percent (40%) of respondents had an offer in hand they were considering. Most workers felt that after 2 years it's acceptable to move on to another job – Millennials think even less than two years is adequate. Regardless of generation, better pay is the top reason to flee, followed by career growth concerns. Those planning to move on in less than six months are more likely to have updated their online profile, inquired with friends and family about new opportunities, and expanded their network of professional contacts, among other tell-tale behaviors.
It's a Job Seeker's Market, Executives Say War for Talent is On
Workers are feeling very optimistic about the job market, with ninety three percent (93%) confident in their attractiveness as a job candidate. Sixty seven percent (67%) say they could easily find another job, and that it's easier than ever to learn about new opportunities. Three-quarters have been approached about an opportunity in the last year. Executives corroborate this talent-friendly environment, with the majority of them reporting that their company will be hiring more in the next year than the previous one, and that competition for talent is up. The functional areas that will see the greatest demand include Sales, Marketing, Design/Technical Development, E-commerce, Digital and Creative.
Corporate Culture Counts
In such a competitive market, executives say that company culture is a competitive advantage and a top talent lure. Employees agree that culture is important and believe that a company's attitude to work/life balance is the number of aspect of a great place to work. However, only thirty-three percent (33%) of workers feel they've made a good culture match. Companies need to be concerned about this because the study finds that making a good match positively impacts employee engagement, job satisfaction, loyalty, perception of management, and retention.
Career Path Clarity Vital to Talent But Employers Lack Commitment to It
Questions around career direction are top of mind for workers. After salary, career concerns were among the next five reasons to seek a new job. Fifty-six percent (56%) of survey participants said their company doesn't communicate about their career path. Without clarity, almost 3/4ths of workers are lukewarm or pessimistic about their future with their company. Executives acknowledge to using career pathing as a top talent lure but admit that taking a formalized approach to career mapping at any level is not a priority at their company
Skills Gap Is a Concern to Both Executives & Workers
Executives surveyed concur that a skills gap persists in the market, posing a threat to their company's success and making talent hard to recruit. To manage the gap, companies are training existing employees, relying on low-cost solutions like mentoring and cross-training internally. Workers recognize the importance of up-to-date skills in staying employable, and seek out training themselves or look for new jobs ripe with development opportunities. The study also found the rising importance of soft skills, with managers saying they are twice as likely to forego functional skills for soft skills in a job candidate.
Employee Engagement is Lackluster At Best
More than half of workers are just not into their jobs – an unfortunate situation given the impact engagement has on company productivity. The study found seven drivers of engagement, such as salary, interesting work, and immediate manager. Improving engagement is important because the data supports that highly engaged employees are more job satisfied, company loyal, retainable, likely to have a positive view of company leadership, and more.
Notes on Survey Methodology and Analysis
24 Seven Inc. surveyed over 2150 professionals around the world in Marketing, Fashion, Retail and the Beauty sectors. The survey, one of the largest of its kind, examined the current state and prevailing attitudes of the employment market among talent and those that hire them. For a complete copy of the 24 Seven 2015 Salary & Job Market Study, go to http://www.24seventalent.com/salary-trends.
ABOUT 24 SEVEN
24 Seven is an award-winning creative staffing and recruiting firm that connects high-caliber talent with leading brands, marketing departments, design firms, ad and interactive agencies. For 15 years, 24 Seven has been providing temporary, temp-to-hire, direct hire and executive search solutions to leading organizations across many industries, including fashion, luxury, retail, e-commerce and beauty. The company supports clients' evolving talent demands with offices in New York, London, Toronto, Los Angeles, Santa Monica, Orange County, Chicago, San Francisco, Seattle, Portland, Philadelphia and Atlanta.
For more information:
Visit http://www.24seventalent.com
or
Contact Natasha Lopoukhine, Director of Strategic Content & Communications
Email: natashal(at)24seveninc(dot)com.
Phone: 203 956 0920