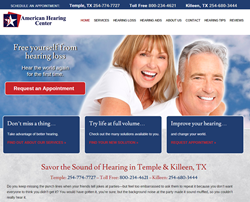 Temple, TX (PRWEB) July 15, 2015
American Hearing Center, a full-service audiology practice with Texas locations in Temple and Killeen, has updated its blog to include information on relevant hearing healthcare topics on a weekly basis. The blog can be found at http://www.americanhearing.info/hearing-tips.
The blog will include vital information on hearing healthcare topics, such as hearing loss, hearing testing, hearing aids, tinnitus therapy, and hearing loss prevention. Topics include advice on coping with hearing loss, guidance on how to approach others about their hearing loss, direction on how to get ready for a hearing evaluation, and tips on how to choose the most suitable hearing aids.
On the lighter side, the blog will cover fascinating hearing topics such as how insects and other living things hear, how to review an audiogram, careers in the hearing care field, and the history of hearing aids, among many more. Recent articles include "6 Ways to Save Your Hearing," "The Psychology of Hearing Loss," and "The Top 5 Hearing Aid Myths Exposed."
The blog will supply a combination of important educational information along with fun, interesting topics connected to hearing and the audiology profession. Additionally, weekly blog posts will be published to American Hearing Center's Facebook page, where followers will receive updates with each weekly post. The Facebook page will also contain interesting hearing-related information to reinforce American Hearing Center's effort to increase public awareness of hearing loss.
American Hearing Center is encouraging anyone with questions or concerns to contact the practice with any blog topic suggestions. If you would like a question answered, or a topic of interest considered in more depth, contact the practice to have your topic addressed in future blog posts.
About American Hearing Center:
American Hearing Center is a full-service audiology practice with locations in Temple and Killeen Texas. Known for its cozy and comfortable offices, its atmosphere more closely resembles a friend's living room than a typical doctor's office. Staffed with personable and highly-trained employees, American Hearing Center provides expert, individualized care and state-of-the-art technology to bring better hearing to Central Texas.
Contact:
Cathy Comstock, Au.D.
http://www.americanhearing.info
888-716-6203