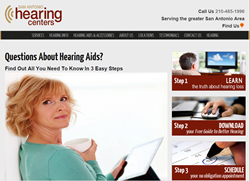 Hearing aids have come a long way over the last 5 to 10 years, with significant improvements over their analog ancestors.
San Antonio, TX (PRWEB) July 15, 2015
Hearing aids have come a long way over the last 5 to 10 years, with significant improvements over their analog ancestors. But perceptions have not changed as fast, as many myths regarding modern hearing aids persist.
According to San Antonio Hearing Centers, most myths and misconceptions about hearing aids are based on the problems associated with the older analog hearing aid models. But since most hearing aids are now digital, those problems are a thing of the past.
The first myth concerns performance, as there is a common perception that hearing aids simply don't work. But recent research suggests the opposite: a study reported in the Journal of the American Medical Association, titled "Efficacy of 3 Commonly Used Hearing Aid Circuits," found that all three commonly used hearing aid devices "provided significant benefit in quiet and noisy listening situations."
The question is not whether hearing aids work—the question is whether patients have the right hearing aids for their hearing loss, professionally programmed according to their preferences by a qualified professional, according to San Antonio Hearing Centers. Bad experiences are likely the result of buying the wrong hearing aid, buying hearing aids online, consulting the wrong individual, or not having the hearing aids customized and professionally programmed.
The other myths include the belief that hearing aids are big and unsightly, too expensive, and uncomfortable and difficult to operate. Again, while this may have been true of the older analog models, the newer digital hearing aids are smaller, more attractive, and easy to operate, and are becoming more affordable.
Another dangerous myth is the belief that you can save money by purchasing hearing aids online. According to San Antonio Hearing Centers, in the long run, you likely won't save time or money, and your hearing will also likely be less than optimal.
Visiting a hearing specialist is more expensive up front, but consider what's included in the price: patients can be sure that they get the right hearing aid with the right fitting and settings, along with follow-up care, adjustments, cleanings, instructions, repair services, and more. It's worth it.
The original article, and additional information about hearing aid myths, can be found at http://www.sahearingcenters.com/the-top-5-hearing-aid-myths-exposed.
About San Antonio Hearing Centers
San Antonio Hearing Centers serves the greater San Antonio Area including the communities of Live Oak and New Braunfels. We offer a full range of diagnostic and preventative hearing healthcare professional services, including hearing aid screening, evaluations, hearing aids sales and rehabilitative and preventative counseling. We are dedicated to keeping abreast of the latest improvements in technological advancements in the hearing industry and are committed to offering the most current options to our patients.
Contact:
Penney Powell
San Antonio Hearing Centers
210-485-1996
http://www.sahearingcenters.com
Serving the greater San Antonio area