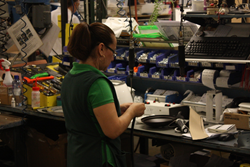 "With the advent of LEDs, our products are now electronics-based: exceptional product quality is a Kenall signature, so skills training is critical."
Kenosha, WI (PRWEB) July 16, 2015
Since moving to Wisconsin in December of 2014, Kenall Manufacturing has been aggressively expanding education for new hires. A $388,000 Wisconsin Fast Forward grant has been one key to implementing training that helps the commercial lighting company fulfill a need for skilled employees. "With the completion of our new 354,000-square-foot facility comes a fresh emphasis, not only on new employee training, but also cross-training existing employees. As a company we need to stay nimble and so we encourage our employees to be flexible" said Kenall President and CEO Jim Hawkins.
Kenall has created a combination program that includes classroom and hands-on learning: in its new simulation center, employees learn wiring techniques for Kenall's popular LED fixtures. They also learn to operate specialized equipment such as plastic and aluminum saws and laser cutters, and hone skills including welding and warehouse operations. Most of Kenall's lights, known as luminaires, will end up in some very demanding applications, including clean rooms, hospitals and correctional facilities. "With the advent of LEDs, our products are now electronics-based: exceptional product quality is a Kenall signature, so skills training is critical," said Mr. Hawkins.
Other components of the training program supported by the Wisconsin Fast Forward grant include a continuing education program for supervisors and employees and a partnership with Gateway Technical College. Currently, Kenall is running two shifts per day, six days a week and anticipates that it will double in size over the next five to ten years. As the company grows, the hope is that employees' careers will grow with it.
Vic Fernandez, Director of Manufacturing, says he is one example of how employees can flourish at Kenall. On a recent plant visit, he shared his story with state officials, including Wisconsin Department of Workforce Development Secretary Reggie Newson, state Representative Ted Ohnstad of Kenosha and representatives of county and state job centers and workforce development agencies. "I started in shipping – a long time ago—but I moved up. The company supported me through every step, including night classes at UW-Parkside," said Fernandez.
About Kenall Manufacturing
Kenall Manufacturing was founded in Chicago, Illinois in 1963 and has built a reputation for durable lighting solutions of superior quality and exceptional value. Today, the company focuses on the transportation—including parking, transit and tunnel—high-abuse, correctional, healthcare, sealed enclosure and food processing markets. Kenall luminaires are designed and manufactured in the USA and meet the guidelines established under the Buy American Act and the North American Free Trade Agreement. For additional information, visit http://www.kenall.com.