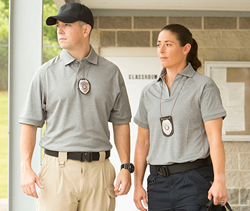 Propper's long history and expertise in tactical and work uniforms shows in its latest additions.
St. Louis, MO (PRWEB) September 02, 2015
Work uniforms call for lightweight, breathable, moisture-wicking fabrics and Propper continues to deliver. From uniform shirts and pants to shorts and polos that can worn on or off duty, Propper's apparel lets the wearer focus on the task at hand. Check out the video for the Snag-Free Polo, Propper's newest release. This polo is built for tough use and resists snagging, pilling and picking. Innovative antimicrobial wicking fabric keeps the wearer dry and comfortable to help maintain a professional appearance.
Propper's long history and expertise in tactical and work uniforms shows in its latest ultra-light Summerweight uniform. The durable stretch fabric wicks moisture away from the body, keeping the wearer cool and comfortable without restricting mobility. The uniform is UPF 50, meaning it blocks 98% of the ultraviolet radiation hitting the garment, providing all-day sun protection. Propper Summerwight items include tactical pants, shirts (long and short sleeve) and shorts. View the product video here.
These new additions expand Propper's arsenal of items that keep the wearer cool, comfortable and protected, on or off duty. Propper performance polo shirts combine comfort and professional style with the tactical performance features needed the job. The bestselling Propper I.C.E. Performance Polo dries 125% faster than cotton and 30% faster than polyester. All Propper polos work well paired with tactical pants as a uniform.
About Propper
Since 1967, making tactical gear with a purpose has been a way of life for Propper, starting with their first government contract with the U.S. Navy. Today, Propper designs and manufactures tactical clothing and gear that keeps military, tactical, law enforcement, and public safety professionals moving, whether they're in the service, on the job, or off for the weekend. To shop or learn more, visit propper.com.