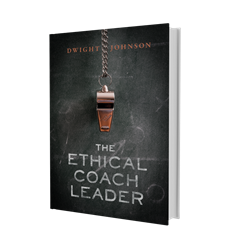 We, as a society, have lost track of what ethics truly are and we have no way to hold anyone accountable because we have no code of ethics
(PRWEB) July 21, 2015
Author Dwight Johnson launched his new website and marketing platform to promote his upcoming book, 'The Ethical Coach Leader'. Dwight Johnson can be booked for a variety of engagements through http://www.dwightjohnson.net/ . On his new site readers will also find Dwight's blog and additional information about the upcoming book. This is just the tip of the marketing iceberg for Dwight as he continues to prepare for the launch of 'The Ethical Coach Leader', launching November 10th, 2015.
The Ethical Coach Leader: Developing Honor and Integrity is a fiction book that teaches readers ethics through its story that they can apply in their real lives. It follows the story of a college coach who discovers that his star athlete failed his steroid test. Coach is then faced with a serious ethical dilemma that he does not know how to solve. During a couple of restless nights of sleep, Coach is visited by five ghosts: the Ghost of Example, the Ghost of Education, the Ghost of Experience, the Ghost of E-information, and the Ghost of Environment, all of which have different advice to give Coach on how to deal with his ethical crisis.
Dwight Johnson:
Dwight Johnson is an ethical coach who resides in Colorado Springs where he works at the United States Air Force Academy. He is a retired Air Force Lt. Colonel and also served as the Department Head of Services at the Air Force Institute of Technology, where he taught Customer Service and Total Quality Service. Over the years, he has learned the importance of understanding ethics, integrity, honor, and good character. In 2012, Dwight was awarded the General Billy J Boles Mentorship Award for the Air Force Academy for mentoring cadets.