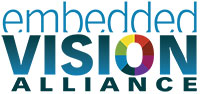 WALNUT CREEK, Calif. (PRWEB) July 16, 2015
The Embedded Vision Alliance (embedded-vision.com) has announced that ten companies joined the organization during the first half of 2015, bringing membership to over fifty. "The Alliance is rapidly increasing in importance and influence as companies take advantage of its resources to connect them with designers of computer vision applications and systems," observed Jeff Bier, founder of the Alliance. "The mission of the Alliance is to spur the adoption of vision technology by the product development community and to bring that community together with our Members, which are providers of technology and services for systems and applications that use computer vision."
Alex Myakov, CEO of Itseez, said, "Itseez is proud to join Embedded Vision Alliance. As a developer of computer vision-based products for consumer-grade 3D scanning and advanced driver assistance systems (ADAS) and as a supporter of the de-facto standard in computer vision, OpenCV, Itseez is very keen to join forces with technology leaders to develop the computer vision ecosystem."
Davide Santo, ADAS product line manager at Freescale, commented, "As a leader in embedded processing solutions for the automotive market, Freescale is driving innovation across a wide spectrum of key technologies that rely on computer vision. Membership in the Embedded Vision Alliance will enable Freescale to engage with leaders in vision technology to develop solutions that will bring substantial benefits to drivers."
The newest members of the Embedded Vision Alliance are:
Freescale (freescale.com) is a leader in embedded processing solutions for the automotive, consumer, industrial and networking markets. Freescale processors are used in vehicle radar and vision systems, creating smarter, safer vehicles.
Huawei (huawei.com) is a global information and communications technology (ICT) solutions provider.
Itseez (itseez.com) develops "vision that works"—robust, fast, and lean solutions to complex real-life problems. Itseez develops computer vision software products, provides consulting services in the computer vision domain, and leads the development of the computer vision library, OpenCV.
LensBricks is making the world's smartest consumer imaging technology. Vidalife (vidalife.info), its first product, is a smart home camera that automatically highlights the big little moments that often make our fondest memories.
Movidius (movidius.com) develops visual sensing technology that brings awareness and perception to cameras in connected devices. Its vision processor enables devices to capture and interpret the world around us better.
Stradvision (stradvision.com) is a developer of object detection and recognition technology. Its computer vision algorithm is accurate and fast, and runs smoothly on IoT, wearable, and embedded devices.
WINDS is a joint venture consortium formed by Nissan, Sony, Exvision, and the Ishikawa-Watanabe Laboratory at the University of Tokyo (k2.t.u-tokyo.ac.jp). Led by Professor Masatoshi Ishikawa, WINDS is commercializing innovative vision-based technologies.
VectorBlox (vectorblox.com) designs high-performance computing solutions in FPGAs. The VectorBlox MXP Matrix Processor accelerates image, video, and vision-related processing tasks up to 10,000 times faster than traditional soft-processor solutions.
VeriSilicon (verisilicon.com) is a Silicon Platform as a Service (SiPaaSTM) company that provides IP-centric, platform-based custom silicon solutions and end-to-end semiconductor turnkey services for a wide range of applications, including computer vision.
Vivante (vivantecorp.com) provides native OpenCL vision IP cores, including the first IP to conform with OpenVX. Vivante IP can be used to accelerate algorithms for cognition of sensor data and run advanced 3D modeling and synthetic vision in security and automotive platforms.
The Alliance was founded in May 2011 as an industry partnership bringing together providers of the technology used to create practical applications of computer vision. Membership is open to any company that supplies hardware, software, or design services for computer vision systems and applications.
The Alliance organizes the annual Embedded Vision Summit, the only event for software and hardware developers incorporating visual intelligence into products. Over 700 attended the May 2015 Summit. The 2016 Summit will take place in Santa Clara California from May 2 to 4.
To join the Alliance, contact the Alliance at membership (at) embedded-vision (dot) com.