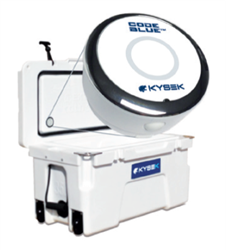 No more ruined picnics, wasted game from your hunts, smelly forgotten fish, or hot beer
Orlando, FL (PRWEB) July 16, 2015
Extreme Cold, LLC, parent company of KYSEK The Ultimate Ice Chest, introduces the CodeBlueTM Bluetooth Temperature Sensor. The company developed the unique KYSEK accessory to provide insurance against unsafe temperatures on important items such as game from hunts, fresh-caught fish, frozen foods and more.
The KYSEK CodeBlueTM, Temperature Sensor works only with KYSEK ice chests and is available at most KYSEK retailers.
"KYSEK is the best in class ice chest on the market with the quality features that the industry has wanted for years." said John Gutierrez, CEO of Extreme Cold, LLC, and creator of KYSEK. "In keeping with its tradition of bringing innovation and technology to the industry, we are releasing the CodeBlueTM, another game-changing product."
CodeBlueTM is paired with a mobile app and fits into one of KYSEK's dual internal accessory ports. Initially it will run on the Apple iPhone with an android version coming soon. No more opening the lid to see if the ice is still frozen! You will always know the real time temperature in your cooler.
KYSEK's CodeBlueTM Temperature Sensor allows you to monitor the life of your ice, ice chest temperature and more, without ever opening your cooler. By keeping your ice chest sealed longer you extend the life of your ice ultimately keeping your contents colder, longer. For trips hauling temperature-sensitive items like meat, CodeBlueTM offers a specific alert to ensure the temperature never rises to unsafe levels. Conversely, if you are traveling with warm/heated food, you can monitor if the temperature drops to an unwanted level. The app also provides a countdown notice to restock your ice and calculates the time since your last refill. The Trends Tab tracks the variation of your temperature over days of use, which provides an additional record of the temperature in graph form. The Catalog Tab provides a direct link to the KYSEK website for support help. The app also allows you to monitor multiple ice chests from a single smart device.
Extreme Cold, LLC is a quality engineering, design, and manufacturing company that leverages our knowledge and partnerships to provide turn-key services, delivering KYSEK products from concept to your local store. For more information on the KYSEK brand and its accessories, please visit http://www.kysek.com.
KYSEK TM The Ultimate Ice ChestTM, and CodeBlueTM are either registered trademarks or trademarks in the United States and/or other countries. The names of actual companies and products mentioned herein may be the trademarks of their respective owners.