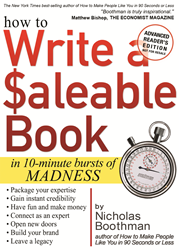 Stay open to opportunity -- you never know where your next important connection will be made.
(PRWEB) July 22, 2015
The event will first take place August 28th, 29th and 30th in Las Vegas, Nevada. Boothman will then be hosting the weekend in Toronto, Canada September 18th, 19th and 20th. The goal of the weekend is to complete 12 'key' chapters between Friday evening and the end of the day on Sunday, all under the guidance of Nicholas and his team of experts. This accelerated, intense weekend with Nicholas begins even before guests arrive. As a pre-requisite to the weekend, attendees must read their free copy of 'How to Write a Saleable Self-Help Book in 10-Minute Bursts of Madness' from cover to cover and complete three exercises from the book before they even arrive at the hotel.
The event will run from 6:30pm to 9:00pm on Friday, 9:00am to 5:00pm on Saturday and 9:00 am to 4:00 pm on Sunday with two 20 minute breaks for coffee and one hour for lunch (meals are not included in workshop fee). There are only 10 spots left for the event in Las Vegas, more information on the event and ticket purchasing can be found here http://www.writeasaleablebook.com/weekend-event/.
'How to Write a Saleable Self-Help Book in 10-Minute Bursts of Madness' teaches readers the skill of "Writing Madly" and mastering the five steps to writing a self-help book that actually sells, with Nicholas Boothman - an author who's done it over and over. If writers embark on these steps in the right order then books will fly off the shelves, believes Boothman.
Nicholas Boothman:
Nicholas Boothman is an internationally recognized expert in face-to-face communication and is the author of several books including How to Make People like You in 90 Seconds or Less and How To Connect In Business in 90 Seconds or Less.
A former international fashion and advertising photographer, Nicholas Boothman's work has appeared in publications ranging from Vogue to National Geographic. His books have been translated into more than thirty languages around the world. Today he travels the world over 100 days a year giving speeches and workshops.