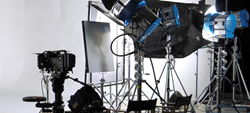 "Our corporate video team is highly experienced in moving your brand to the forefront with visually stimulating content in video, still photography, and scripting." - Todd Koren
Tustin, CA (PRWEB) July 15, 2015
Absolute Exhibits, an exhibit rental company and marketing services provider, is offering discounted pricing for corporate videos for NBAA, the National Business Aviation Association exposition in Las Vegas, Nevada this October. The promotion discount will be based on the complexity of the job and run-time and orders must be placed by July 31st. A high-energy video draws people to an exhibit booth allowing sales personnel to connect with them in conversation and tell them more about their company.
"Nothing explains the excitement of air travel like an in-booth video… keeping your company contemporary and current and stopping show attendees as they walk the show aisles," said Todd Koren, CEO of Absolute Exhibits. "Our corporate video team is highly experienced in moving your brand to the forefront with visually stimulating content in video, still photography, and scripting."
Video has an incredible payback after the trade show. Once used on the trade show floor, corporate video can be used in multiple of ways to increase your SEO rankings, add to Social Media offerings, and provide both investor presentations and in-house communications. The Absolute Exhibits corporate video production team offers script writing, producing, directing, shooting, motion graphics and high-definition editing … a complete service in-house. For more information on this promotion for NBAA show exhibitors, call (714) 685-2845.
About Absolute Exhibits:
A leading exhibition firm, Absolute Exhibits, provides clients with turnkey solutions for designing and fabricating exhibits while managing the entire trade show experience as a one-source trade show and convention exhibit resource. Established in 2000, with locations in Southern California, Las Vegas, Orlando, and Bucharest, Romania, Absolute Exhibits rents and sells custom and system exhibits at over 300 shows in the USA and in countries around the world.