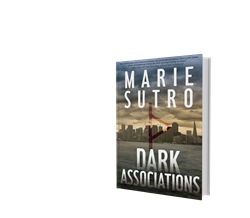 "Marie Sutro's debut novel, Dark Associations, may just be this generation's Silence of the Lambs. Erotic and frightening, it keeps the reader guessing until the last pages."-Steve Alten, NY Times best-selling author of MEG & DOMAIN
(PRWEB) July 22, 2015
Next Century Publishing is a world leader in book publishing, book marketing, and providing authors with the best platforms for success. NCP is a cutting-edge publisher that refuses to accept the status quo. The game has changed, and today's authors have more choices than ever. NCP utilizes the latest in social media and technology to increase readership, book sales, and bottom-line profits for its authors. The company is truly unique in that both independent publishing and full-royalty publishing are offered under one label.
Sutro's Dark Associations is a fast paced thriller that captivates the reader. Following the discovery of the mutilated corpse of her protégé, SFPD Detective, Kate Barnes, vows to take down the notorious serial killer known as The Tower Torturer. As the body count rises, Kate struggles to apprehend the sick psychopath before he resurrects history's most insidious form of torture upon her.
About Marie Sutro:
Marie Sutro resides in Northern California with her husband. A member of Sisters in Crime, she has honed her skills under the mentorship of New York Times Best Selling Author, Steve Alten. She volunteers with California Library Literacy Services, helping adults improve their reading and writing skills.