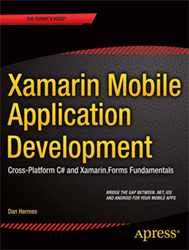 This weighty book gives clear guidance that will help you build quality apps, starting with architectural considerations, and then jumping into practical code strategies. - Bryan Costanich, Vice President, Xamarin
Boston, MA (PRWEB) July 21, 2015
Dan Hermes, Xamarin MVP and president of a mobile consultancy called Lexicon Systems, has authored a new book for mobile software developers called Xamarin Mobile Application Development. Published by Apress in July 2015, this book is a Xamarin.Forms primer and a cross-platform reference for building native Android, iOS, and Windows Phone apps using C# and .NET. This book explains how to use Xamarin.Forms, Xamarin.Android, and Xamarin.iOS to build business apps for the enterprise and consumer apps for Google Play and the iTunes App Store. The book is available on Amazon.com, Apress.com, and in select bookstores.
Companies are turning to Xamarin, a Gartner-recommended solution, for their native mobile development using .NET. The Xamarin platform provides a bridge for .NET software development to cross into the world of mobile business apps using C#. This technology provides integrations with enterprise cloud data solutions such as Oracle Mobile Cloud Service (MCS) , IBM MobileFirst Platform Foundation and Microsoft Azure Mobile Services.
Using this book, developers can learn how to leverage Xamarin.Forms to optimize cross-platform development with the most common UI pages, layouts, views, controls, and UI patterns. They can combine these with platform-specific UI to craft a visually stunning and highly interactive mobile user experience.
Readers will explore Hermes' solution-building techniques from starter-to-enterprise to help decouple their functional layers, manage their platform-specific code, and share their cross-platform classes for code reuse, testability, and maintainability.
This comprehensive recipe and reference book, featuring over 200 C# code examples with downloadable C# and XAML, addresses one of the most important and vexing problems in the software industry today: How to effectively design and develop cross-platform mobile applications.
What the book covers:

How to build world-class mobile apps for iOS, Android, and Windows Phone using C#
How to organize Xamarin code into a professional-grade application architecture
The latest Xamarin techniques for cross-platform UI using Xamarin.Forms
When and how to use platform-specific UI
Data binding, local data access, enterprise cloud data solutions, and building a data access layer for mobile apps
Cross-platform architecture and design to maximize portability and code reuse
This is book is for C# and ASP.NET developers, architects, and technical managers as well as many Android and iOS developers.
About the Author
Dan Hermes is a software consultant, Xamarin MVP, and founder of Lexicon Systems, an award-winning Xamarin and .NET consulting firm. Mr. Hermes helps developers create great mobile apps and helps businesses develop a winning mobile strategy. His firm's recent Xamarin projects include a cross-platform app for Thermo Fisher Scientific which won a W3, a Davey award, and was a finalist for a Xammy award. Mr. Hermes' clientele includes dozens of software-building firms such as Fidelity Investments, EDS, and Computerworld Magazine. He speaks at conferences and teaches software development at colleges, developer user groups, and corporate training centers. A contemporary Renaissance man, Mr. Hermes is also active in the arts. He is a recognized composer, his music having aired on National Public Radio (NPR). He is also an active digital artist, exhibiting his work internationally, and a founding director of Art Technology New England (ATNE). Firms who are passionate about serving their customers through software development call upon Dan to help lead them into the fast-growing world of mobile devices using Xamarin.