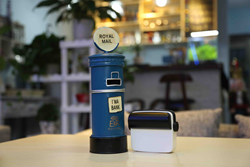 droPrinter - the World's First Smart Phone Printer
Melbourne, AUS (PRWEB) July 20, 2015
A recent public unveiling of droPrinter marks a step in a new direction for smartphone printing capabilities. The product is the first of its kind and is nearly ready to go on the market.
Founder of droPrinter Zhenxun Yu is asking the public for contributions. With already 381 backers on his Kickstarter campaign page, Yu aims has raised a total of $23,020 and guarantees a free droPrinter to anyone who makes a donation of $50 or more.
"We are very excited to get the funding to get this product to market to revolutionize smartphone printing," Yu said. "We spent a considerable amount of time and money researching and developing the product and we are confident that consumers will find it a great value that will change the way they use their smartphone."
To use the printer, users simply press the power button and connect via Bluetooth. Once connected, it's easy to print everything from a daily 'to do' list to a favorite family photo, in black and white, within an instant.
Donations of all sizes to droPrinter's Kickstarter campaign are rewarded – all the way from a mention on the droPrinter website Hall of Fame up to a free droPrinter or roll of thermal paper.
To learn more about droPrinter, including how to contribute to the campaign, visit droPrinter online at: https://www.kickstarter.com/projects/droprinter/droprinter-the-worlds-first-smart-phone-printer/description.
Product features
droPrinter is the world's first smartphone printer. The printer is portable, lightweight and can be set up for use in a matter of seconds. On top of acting as a power pack to charge any connected mobile device, the droPrinter battery is rechargeable and lasts more than 120 hours, or seven hours of continuous printing. The droPrinter is equipped with smartphone applications and will be able to work with more third party apps in the future. Instead of using ink to print important notes and images, this printer uses thermal paper, which is heat sensitive to display the text or image.
More about droPrinter
Founded in 2015, droPrinter is on the verge of revolutionizing smartphone printing. The company's mission statement is "to offer droPrinter, which is the best low-cost and efficient accessory for your smartphone!"