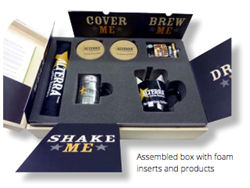 Sunrise digitally die-cut charcoal foam inserts using the product itself as a mold for optimal accuracy
Chicago, IL (PRWEB) July 20, 2015
Presentation packaging is extremely crucial when selling a product. The first thing the buyer sees is the packaging. When they open the box they want the product to be packaged attractively and, more importantly, safely to prevent any damage to the commodity. Sunrise digitally die-cut charcoal foam inserts using the product itself as a mold for optimal accuracy: http://downloads.sunrisehitek.com/showcases/PDF/Showcase-48-Alterra-Wood-Box.pdf. The foam inserts are created in multiple layers to accommodate different product heights within the same package. Sunrise is a leader in prototype packaging and will even assist in designing the construction of presentation packaging. Fulfillment services are also managed in-house: from assembling box and placing foam inserts and products inside to gluing and packing in custom shipping containers.
About Sunrise Hitek Group, LLC.
Sunrise Hitek https://www.sunrisehitek.com/ is an Inc. 5000 company established in 1988 and employs the most advanced equipment and technology, such as G7-certified HP Indigo and UV flatbed presses, laser engraving, and digital die-cutting, to create best-in-class color printing, short-run packaging, P.O.P. retail displays, and signage products. A privately-owned enterprise, the company is based in Chicago and sells products worldwide.