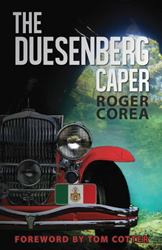 'These automobiles are the epitome of beauty, design, class and craftsmanship. Bringing them together in a tale of mystery and intrigue brings them to life!' -Laura Brinkman, Executive Director/CEO Auburn Cord Duesenberg Museum
New York, New York (PRWEB) August 12, 2015
SelectBooks, Inc. announces the paperback publication of The Duesenberg Caper (September 2015; $16.95; ISBN: 978-1-59079-310-7) by Roger Corea. A vacation in Sicily turns deadly when schoolteachers Andrew and his wife Ada find themselves commissioned to solve one of the oldest mysteries in the car world. The Duesenberg Caper follows the young couple as they search for the priceless 1935 Duesenberg SJ owned by King Victor Emmanuel of Italy, which has been concealed for decades.
Their mission leads them through the beautiful Italian landscape and into the path of Sicily's mafia where they unwittingly become involved in the Italian government's scheme to locate and seize the car. The Duesenberg Caper reaches its climax at the Autodromo di Pergusa with a vintage car race, Concours d'Elegance, and a classic car auction that will change the face of organized crime in Sicily. For classic car aficionados, the many legendary cars woven into the storyline are sure to delight.
The Duesenberg Caper is Corea's second novel and boasts a foreword from the former co-chair of the Amelia Island Concours d'Elegance and author of twelve best-selling automotive books, Tom Cotter. "While I loved the adventure Roger wove into his story, thirty-two legendary classic cars played a role in the action as well, including a 1910 Mercer Raceabout, a 1933 Alfa Romeo Spider, a 1957 Ferrari Testa Rossa, and a 1956 Jaguar XKSS similar to actor Steve McQueen's "Green Rat." As opposed to Clive Cussler's Dirk Pitt novels, where interesting cars are mentioned and sprinkled into the storyline, Roger makes these automobiles the stars! . . . Forget about reading The Duesenberg Caper one chapter each night; you'll be up until sunrise to finish it!"
Roger Corea will be appearing at several car shows to promote his book. In late August and early September, he will be at the Auburn Cord Duesenberg Festival. Books will be available at the Auburn Cord Duesenberg Museum. Then in October, Corea will be making an appearance at the Hershey Region AACA RM Sotheby's Auction at Hershey Hotel. Finally in March 2016, Corea will be attending the Amelia Island Concours d'Elegance.
The Duesenberg Caper will be available wherever books are sold.
###
ROGER COREA writes about things, people, and places he is passionate about. His first novel, Scarback: There Is So Much More to Fishing Than Catching Fish, published in 2014, tells the story of a critical time in the life of a mentally challenged man from the Italian neighborhood of Roger's youth.
Writing is a natural outgrowth of Roger's formal education. He earned a bachelor's degree in English from St. Bonaventure University and completed graduate work in English literature at the University of Rochester. Before entering the business world to work for a large financial services company, Roger taught English literature at Canandaigua Academy and Penfield High School, where he also served as assistant football coach.
Roger lives with his wife, Mary Ann, in Penfield, New York. They have three children and three grandchildren.