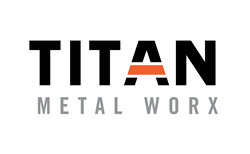 This confirms our unwavering commitment to our customers in exceeding their expectations and in delivering the highest standards of quality in all we do
Fort Wayne, IN (PRWEB) July 15, 2015
Titan Metal Worx, a premier machining and fabrication services provider, is pleased to announce its achievement of ISO 9001:2008 certification.
Certification of ISO 9001 requires an accredited third party auditing organization to thoroughly review the Company's internal quality management system processes, to ensure that they are capable of consistently delivering a service that meets customers' needs and expectations.
The scope of Titan Metal Worx' ISO 9001:2008 compliance registration includes the design and manufacture of burn plates, machined components, wire harnesses, and fabricated weldments. The scope of services includes sandblasting, heat-treating and powder-coating capabilities.
"I've very happy to announce this achievement on behalf of Titan Metal Worx," said Justin Reed, President and CEO of Titan Metal Worx. "This confirms our unwavering commitment to our customers in exceeding their expectations and in delivering the highest standards of quality in all we do."
About Titan Metal Worx
Titan Metal Worx brings together a multitude of machining and fabrication services into one convenient location, saving customers time and providing the quality assurance of working with one manufacturer. With the latest machining and fabrication equipment, Titan Metal Worx offers a complete solution, from drawing board to finished product. To learn more, visit us at http://www.titanmetalworx.com or call 260-422-4433.