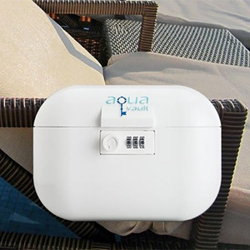 (PRWEB) July 17, 2015
"AquaVault" was featured on NewsWatch as part of its monthly Tech Report, which features the latest and coolest technology products available to consumers. Amanda Forstrom, a technology expert and special reporter for NewsWatch, conducted the review and shared with viewers how this is the perfect device to store belongings while at golf courses, beaches, and any place that requires a safe location for smartphones, wallets and more.
What do people do their valuable belongings like phone, keys and money when they're at the beach or pool? Most people bundle them up in a t-shirt or stick them in their shoes and hope nobody snatches them up. Well, that's not really an efficient way to protect belongings so AquaVault came up with a great solution.
This simple but highly effective device acts as an attachable safe with a 3-digit code for your belongings. Made out of ABS thermoplastic for durability, AquaVault can attach to any tubular object – like a beach or lawn chair, railing, stroller and so on. The size is perfect to fit all "can't-do-without-objects" and with UV-inhibiting plastic, people won't have to worry about them overheating.
They're being used at waterparks, golf courses, casinos, dorm rooms, on boats and most of all at the beach or public pool. In fact, most resorts in Miami's South Beach currently rent AquaVault out to guests. With the arrival of summer it's highly recommended picking one up before going on a vacation. The AquaVault outdoor travel safe can be purchased online for $44.95.
To learn more, visit http://www.theaquavault.com today.
About NewsWatch
NewsWatch is a weekly 30-minute consumer oriented television show that airs on the Discovery Channel and ION Network. NewsWatch regularly features top technology products and services, mobile applications for iOS, Android, and Windows devices, unique and beautiful travel destinations around the world, health and medical tips, and entertainment interviews on the show. NewsWatch airs on the Discovery Channel at 7:00 – 7:30 AM ET/PT.
NewsWatch is located in the greater Washington, DC area and has been on air for over 25 years. For more information or to watch the most recent episode, visit http://newswatchtv.com/tech-report.html.