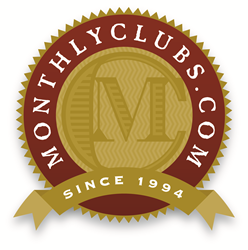 "Last year's 20-year company anniversary was a big deal to be sure, but we didn't want to miss the opportunity to celebrate the fact that our beer and wine clubs are now, 'of legal drinking age,' this year," says Kris Calef, president and founder
LAKE FOREST, Calif. (PRWEB) July 16, 2015
MonthlyClubs.com®, an online subscription service that offers craft beer and gourmet wine, cheese, cigar, chocolate, and flower club memberships to customers across the U.S., is celebrating its 21st year in business by offering discounts and exclusive offers to the members of its six clubs.
"Last year's 20-year company anniversary was a big deal to be sure, but we didn't want to miss the opportunity to celebrate the fact that our beer and wine clubs are now, 'of legal drinking age,' this year," says Kris Calef, president and founder of MonthlyClubs.com. "Since the company was founded on our beer club, we've lined up a couple of exclusive beers created just for our members, and have put together a number of sweet promotions and discounts for all six clubs that will be running the entire month."
Founded as C&H Clubs USA, Inc., in 1994 by two IBM senior account executives, MonthlyClubs.com was established to test the free enterprise system and create a business that delivered high-quality craft beer sourced from the best microbrewers directly to its customers. This business venture was established to capitalize on two key elements – meeting the growing demand for microbrewed beers and taking advantage of the sudden rise in eCommerce-based businesses by offering a monthly subscription-based service.
Since then, MonthlyClubs.com has become one of the largest beer of the month clubs in the US, and has greatly expanded its services by offering clubs for international wine, artisanal cheeses, gourmet chocolates, premium cigars, and fresh-cut flower bouquets. Its two flagship offerings, The Microbrewed Beer of the Month Club and The International Wine of the Month Club, have garnered a dedicated following and outstanding reviews from major consumer groups, including Forbes, Top Consumer Reviews, The Wall Street Journal, and several major broadcast groups.
As part of its 21st anniversary, The Rare Beer Club® is offering two exclusive craft beers in its July shipment: Ursae Majoris, a brown sour ale from Jolly Pumpkin Artisan Ales, and Buellton Silent Partner, a saison from Telegraph Brewing Company. Visit beermonthclub.com to learn more about these beers.
In addition, MonthlyClubs.com is offering three promotions, all of which can be applied to any of the six different clubs, until the end of June 2015:

$10 off any 4-shipment order
$15 off any 6-shipment order
$25 off any 12-shipment order
For more information on the monthly subscription services available through MonthlyClubs.com, visit monthlyclubs.com.
About MonthlyClubs.com®
Founded in 1994, MonthlyClubs.com® provides members and gift recipients with high-quality, gourmet products sourced from the world's top producers. With 7 different subscription services, including The International Wine of the Month Club™, The Microbrewed Beer of the Month Club™, The Rare Beer Club®, The Gourmet Cheese of the Month Club, The Premium Cigar of the Month Club™, The Fresh Cut Flower of the Month Club™, and The Gourmet Chocolate of the Month Club™, MonthlyClubs.com strives to provide its customers with the best products and customer service possible. Learn more by visiting monthlyclubs.com.
Media Contact:
Brett Olson
Manager of Marketing Relations
949-206-9107, Ext. 103
brett(at)monthlyclubs.com